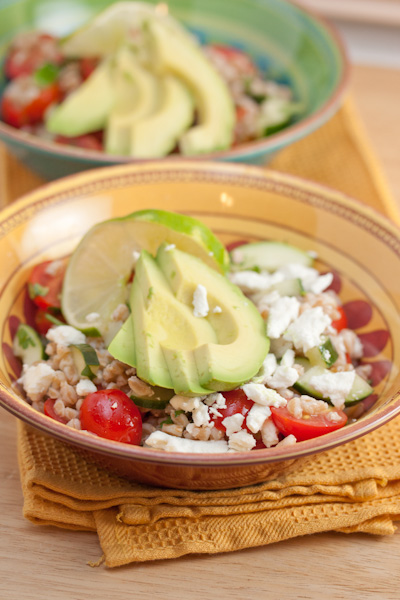 Farro, Avocado, Cucumber, and Cherry Tomato Salad with Feta
This post may contain affiliate links. Thank you for supporting the brands that keep me creative in my tiny kitchen!
This is one of my favorite summertime salads. I love making a big batch and keeping it in the refrigerator for lunch all week. I always add some crumbled feta cheese on top, but leave it out if you want to keep it vegan. The chewy texture of the farro holds up well for several days, and it's always nice to have something this bright and fresh waiting for you to gobble it up!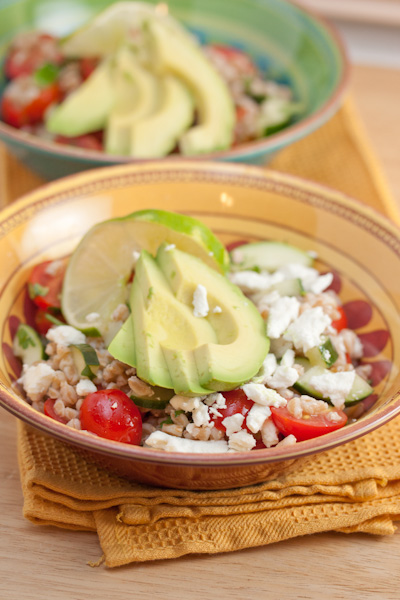 Farro, Avocado, Cucumber, and Cherry Tomato Salad
Cooking Light July 2008
Farro is a whole grain with a pleasantly chewy texture. Look for it at specialty markets and gourmet grocers or health food stores. With crunchy cucumber, sweet cherry tomatoes, and buttery avocado, this dish makes a refreshing lunch. Pair it with a simple starter soup and whole-grain crackers for dinner.
1 cup uncooked farro or spelt
4 teaspoons extravirgin olive oil
¼ teaspoon fresh grated lime rind
1 tablespoon fresh lime juice
1 tablespoon white wine vinegar
¾ teaspoon salt
½ teaspoon black pepper
2 cups red, orange, and yellow cherry tomatoes, halved
1 ¾ cups chopped seeded English cucumber (about 1 small)
¼ cup fresh cilantro leaves
¾ cup sliced peeled avocado (about 1 small)
1. Place farro in a large saucepan; cover with water to 2 inches above farro. Bring to a boil. Cover, reduce heat, and simmer 30 minutes. Drain and rinse with cold water; drain well.
2. Combine oil, rind, juice, vinegar, salt, and pepper in a large bowl; stir with a whisk. Add farro, tomatoes, cucumber, and cilantro; toss gently to coat. Place about 1 cup farro mixture on each of 5 plates; garnish evenly with avocado. Serve immediately.
Yield 5 servings
Nutritional notes:
CALORIES 208(36% from fat); FAT 8.3g (sat 1.1g,mono 4.8g,poly 1g); IRON 2.1mg; CHOLESTEROL 0.0mg; CALCIUM 16mg; CARBOHYDRATE 33.4g; SODIUM 363mg; PROTEIN 5.6g; FIBER 6.1g
Big Flavors Rating: 5 Stars