This post may contain affiliate links, which won't change your price but will share some commission.
I made this egg salad a while back to use up a bunch of hard boiled eggs. I added 2 types of mustard, some fresh parsley, green onions and lemon juice for zing.
Dino isn't as into all of the add-ins as I am, but one thing we both agreed on is that the next time I make egg salad, I need to mash up the eggs (either with a potato masher or a fork) instead of cutting them. It will help the salad stay together without falling out all over the place.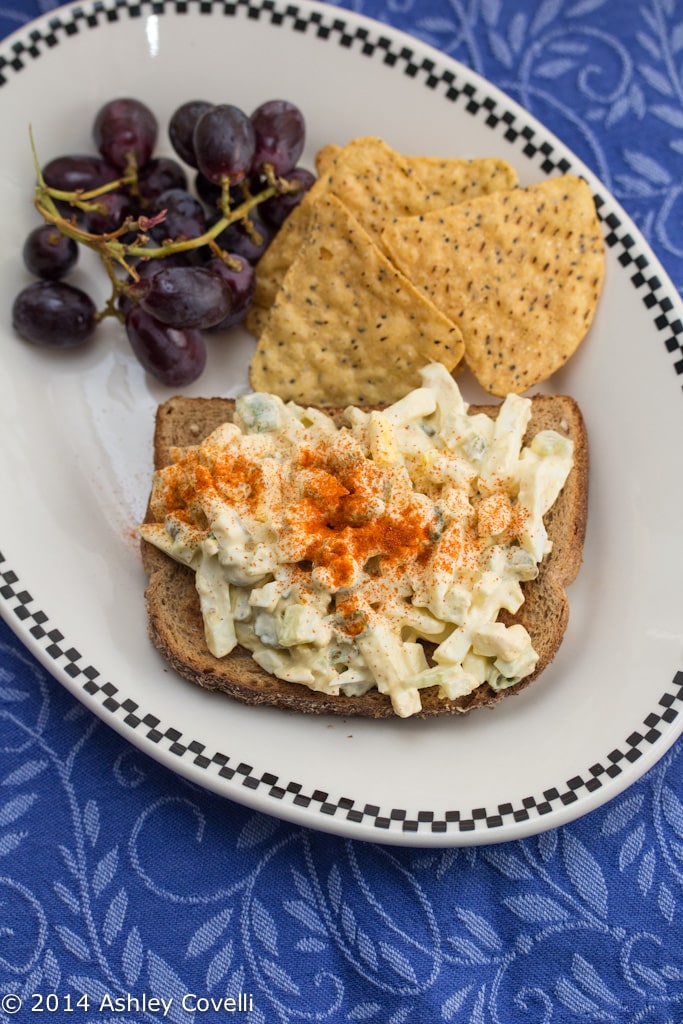 I served the sandwiches on toasted multigrain bread, but it would also be good in a pita, wrap or over a bed of salad greens.
Egg Salad
Big Flavors from a Tiny Kitchen - Ashley Covelli
6 hard boiled eggs, peeled
½ cup mayonnaise
½ teaspoon Dijon mustard
½ teaspoon yellow mustard
2 green onions, thinly sliced
1 stalk celery, diced small
¼ teaspoon paprika (plus more, for garnish, if desired)
3 cornichons, diced small
¼ teaspoon kosher salt
⅛ teaspoon freshly ground black pepper
1 tablespoon freshly squeezed lemon juice
1 tablespoon fresh parsley, chopped
Cut the eggs into small pieces by slicing them in both directions in an egg slicer, or mash them up with a potato masher or fork. Mix eggs and remaining ingredients and refrigerate until ready to serve.
Big Flavors Rating: 4 Stars