This post may contain affiliate links, which won't change your price but will share some commission.
A simple, sweet-and-salty dish that's perfect for busy weeknights.
I'm such a Cooking Light fangirl. I've been subscribed to that magazine for yeeeeears now, and I still look forward to each new issue.
I swear I dog ear almost every single recipe when I do my first pass through the magazine. And this one was one of the first that I made from the July issue.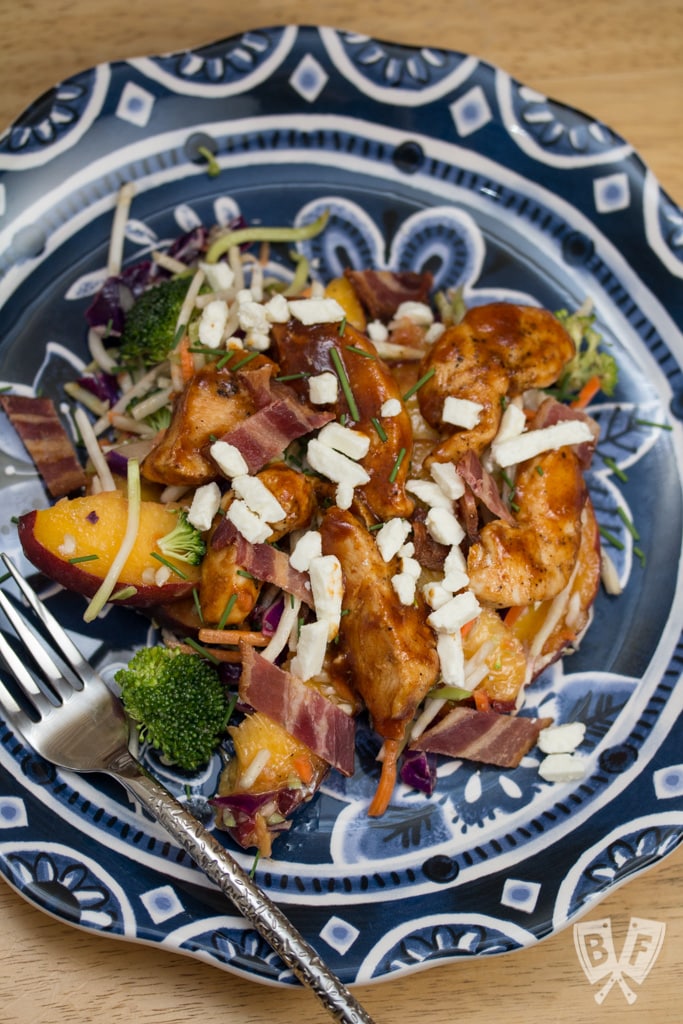 I love that this dish uses fresh peaches and one of my favorite ingredients - packaged broccoli slaw. I love how hearty it is, and it's a nice change of pace from cabbage-filled slaws.
This dish was sweet and tangy, and had just the right amount of bacon. I used one of my favorite Stubb's Bar-B-Q sauces - Sweet Heat. I think it actually may have been a little too sweet with the peaches, so next time I'd probably go with something like their Original Bar-B-Q Sauce.
This was a nice, light meal that held up well for leftovers the next day - it was great cold, right out of the fridge!
5 tablespoons olive oil, divided
2 tablespoons sherry vinegar
½ teaspoon freshly ground black pepper, divided
⅜ teaspoon kosher salt, divided
1 ½ cups sliced fresh peaches (about 2 medium)
1 (12-oz.) pkg. broccoli slaw
3 (6-oz.) skinless, boneless chicken breasts, cut crosswise into 1-in. strips
¼ cup barbecue sauce
1 tablespoon chopped fresh chives
1 ounce feta cheese, crumbled (about ¼ cup)
2 center-cut bacon slices, cooked and crumbled
See MyRecipes for the full recipe.