This post may contain affiliate links, which won't change your price but will share some commission.
This vegetarian meal was in this month's Cooking Light, and it turned out REALLY great! Dino commented that it was kind of like 2 side dishes though, so the next time I make the patties, I'll serve them on a bun or roll more like a hamburger, and have a different side dish. The pineapple rice was really good too, so I'll make that again for sure. I didn't use bagged rice, but made some basmati in my rice cooker. All in all, another winner from CL!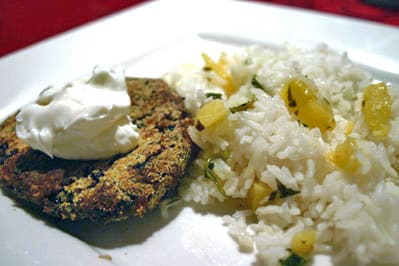 Cuban Black Bean Patties with Pineapple Rice
Cooking Light March 2007
Rice:
1 (3 ½-ounce) bag boil-in-bag long-grain rice
2 teaspoons butter
1 cup diced fresh pineapple
2 tablespoons chopped fresh cilantro
¼ teaspoon salt
Patties:
2 cups rinsed, drained canned black beans (1 [15-ounce] can), divided
½ teaspoon bottled minced garlic
¼ teaspoon ground cumin
⅛ teaspoon salt
1 large egg white
½ cup (2 ounces) shredded Monterey Jack cheese with jalapeño peppers
¼ cup chopped red onion
¼ cup cornmeal
Cooking spray
¼ cup reduced-fat sour cream
To prepare rice, cook rice according to package directions, omitting salt and fat. Drain; place rice in a large bowl. Melt butter in a nonstick skillet over medium-high heat. Add pineapple; sauté 4 minutes or just until pineapple begins to brown. Add pineapple mixture, cilantro, and ¼ teaspoon salt to rice in bowl; cover and keep warm. Wipe pan clean with paper towels.
To prepare patties, place 1 ½ cups beans, garlic, cumin, and ⅛ teaspoon salt in a bowl; partially mash with a fork. Place ½ cup remaining beans and egg white in a food processor; process 30 seconds or until well combined. Add bean puree to mashed beans in bowl, and stir until combined. Add cheese and onion to bean mixture; stir until combined. Divide bean mixture into 4 equal portions, shaping each into a ½-inch-thick patty. Place cornmeal in a shallow dish. Dredge both sides of each patty in cornmeal.
Heat pan over medium-high heat. Coat pan with cooking spray. Add patties; cook 3 minutes on each side or until browned. Spoon about ½ cup rice onto each of 4 plates; top each serving with 1 patty and 1 tablespoon sour cream.
Yield: 4 servings
Nutritional information per serving:
CALORIES 294(27% from fat); FAT 8.7g (sat 5.4g,mono 1.7g,poly 0.2g); PROTEIN 10.2g; CHOLESTEROL 28mg; CALCIUM 155mg; SODIUM 32mg; FIBER 3.5g; IRON 2mg; CARBOHYDRATE 45g
MacGourmet Rating: 5 Stars