This post may contain affiliate links, which won't change your price but will share some commission.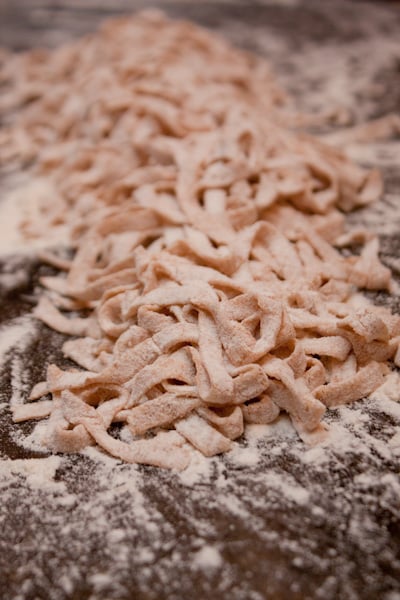 The last time I made this dish, I only made the sauce and used store-bought pasta. This time around, we went all out and made the pasta from scratch, too. It turned out great! We used the pasta roller and cutter attachments on our stand mixer to make that part a little easier. And the sauce couldn't be easier! The capers and lemon add a great bit of tanginess to the tomatoes. This is a great way to enjoy fresh, homemade pasta.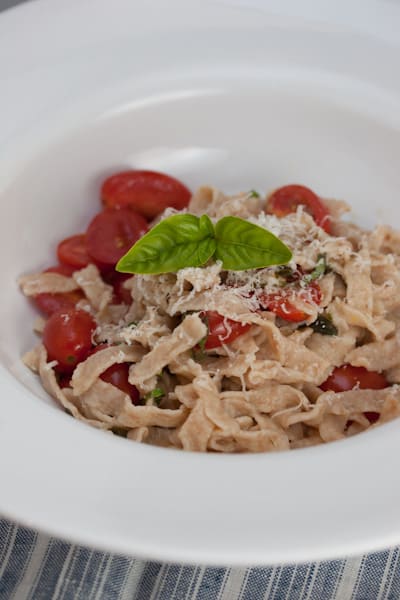 Whole Wheat Tagliolini with Fresh Cherry Tomato Sauce
Cooking Light April 2008
Lidia Bastianich
The nutty, slightly sweet flavor of whole wheat flour is a tasty addition to a basic pasta recipe. Look for the smallest sweet tomatoes you can find for this simple sauce. Substitute grated orange rind for the lemon, if you prefer.
Pasta:
1 cup all-purpose flour (about 4 ½ ounces)
1 cup whole wheat flour (about 4 ¾ ounces)
1 tablespoon plus ¼ teaspoon salt
5 tablespoons water
2 tablespoons extravirgin olive oil
2 large eggs
6 quarts water
Sauce:
2 tablespoons olive oil
2 cloves, garlic minced
5 cups quartered cherry tomatoes
½ cup thinly sliced fresh basil
3 tablespoons drained capers
1 teaspoon grated lemon rind
¼ teaspoon crushed red pepper
1. To prepare pasta, lightly spoon flours into dry measuring cups; level with a knife. Combine flours and ¼ teaspoon salt in a food processor; process 30 seconds. Combine 5 tablespoons water, 2 tablespoons olive oil, and eggs in a bowl, stirring well with a whisk. With processor running, pour water mixture through the food chute, processing just until dough forms a ball. Turn dough out onto a lightly floured surface; knead 5 or 6 times. Shape dough into a disk. Dust dough lightly with flour; wrap in plastic wrap. Let stand 30 minutes.
2. Divide dough into 3 equal portions. Working with 1 portion at a time (cover remaining dough to prevent drying), press dough into a flat rectangle. Roll the dough into a 14 x 14–inch square, dusting with flour, if necessary (turning dough over occasionally and dusting surface with flour as needed). Lay dough sheet flat; fold ends so they meet in the middle. Fold the sheet in half like closing a book. Fold in half again to form 8 layers of pasta. Using a sharp knife, cut the pasta crosswise into ¼-inch-wide noodles. Separate noodles, and dust with flour. Place noodles on a jelly-roll pan dusted with flour. Repeat procedure with remaining dough portions.
3. Bring 6 quarts water and remaining 1 tablespoon salt to a boil in a large Dutch oven. Place noodles in a sieve; shake off excess flour. Add noodles to pan. Cook 1 ½ minutes or until done; drain.
4. To prepare sauce, heat 2 tablespoons oil in a large nonstick skillet over medium-low heat. Add garlic to pan; cook 3 minutes, stirring frequently (do not brown). Remove from heat. Stir in tomatoes and remaining ingredients. Toss with noodles.
Yield 4 servings (serving size: 1 ¼ cups)
Nutritional notes:
CALORIES 408(38% from fat); FAT 17.1g (sat 2.8g,mono 11.2g,poly 2.6g); PROTEIN 12.7g; CHOLESTEROL 93mg; CALCIUM 58mg; SODIUM 565mg; FIBER 7.3g; IRON 4mg; CARBOHYDRATE 53.5g
Big Flavors Rating: 5 Stars