This post may contain affiliate links, which won't change your price but will share some commission.
These veggie burgers were a nice change of pace from all of the burgers we've been having at BBQs lately. They're light and sort of reminiscent of a falafel, which we love. The fresh sage makes them really different, and if you use a whole wheat pita, they're pretty dang healthy. I used an ice cream scoop to portion the patties, so it made about 10 for me. The sauce was a really nice addition. I'd make these, or something similar to these again. I think changing up the toppings and sauce could make them feel like a totally new dish.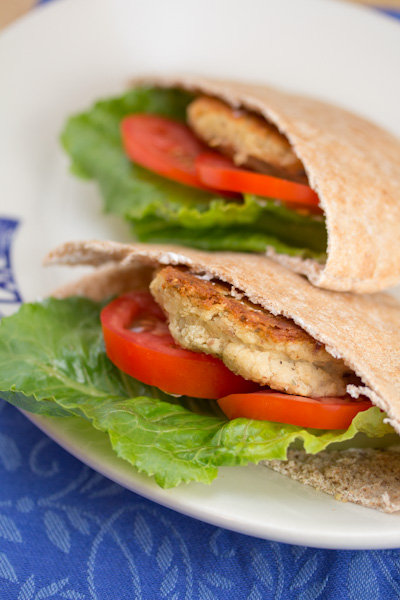 White Bean and Sage Pita Burgers
Cooking Light June 2011
The bean mixture is sticky, so it helps to wet the measuring cup before scooping to form patties.
Yield: 6 servings (serving size: 1 burger)
Hands On: 27 Minutes
Total: 27 Minutes
1 tablespoon extra-virgin olive oil, divided
½ cup chopped onion
2 garlic cloves, minced
⅓ cup old-fashioned rolled oats*
⅓ cup sliced almonds, toasted
2 tablespoons cornstarch
1 ½ teaspoons chopped fresh sage
2 teaspoons Dijon mustard
½ teaspoon salt
¼ teaspoon freshly ground black pepper
2 (15-ounce) cans cannellini beans, rinsed and drained
1 large egg, lightly beaten
½ cup reduced-fat sour cream
2 tablespoons grated fresh onion
2 tablespoons crumbled feta cheese
3 (6-inch) pitas, cut in half*
6 green leaf lettuce leaves
6 (¼-inch-thick) slices tomato
1. Heat a large nonstick skillet over medium heat. Add 1 teaspoon oil to pan, and swirl to coat. Add ½ cup chopped onion and garlic; cook for 2 minutes, stirring frequently. Place mixture in food processor. Add oats and next 8 ingredients (through egg); process until smooth.
2. Wipe pan with a paper towel. Return pan to medium heat. Add remaining 2 teaspoons olive oil to pan, and swirl to coat. Working with one portion at a time, spoon bean mixture into a ½-cup dry measuring cup, and carefully remove bean mixture with a rubber spatula onto pan. (Bean mixture is very soft and sticky.) Using spatula, shape mixture into a ¾-inch-thick round patty. Repeat procedure 5 times to form 6 patties. Cook 8 minutes or until golden, turning after 4 minutes.
3. Combine sour cream, 2 tablespoons grated onion, and cheese in a small bowl. Spread about 2 tablespoons sour cream mixture into each pita half; top with 1 lettuce leaf, 1 tomato slice, and 1 bean patty.
Nutritional Information
Amount per serving
Calories: 315
Fat: 10g
Saturated fat: 3.1g
Monounsaturated fat: 4.7g
Polyunsaturated fat: 1.5g
Protein: 13.2g
Carbohydrate: 43.8g
Fiber: 6g
Cholesterol: 40mg
Iron: 3.8mg
Sodium: 471mg
Calcium: 158mg
*Optional: use Gluten Free
Big Flavors Rating: 4 Stars