This post may contain affiliate links, which won't change your price but will share some commission.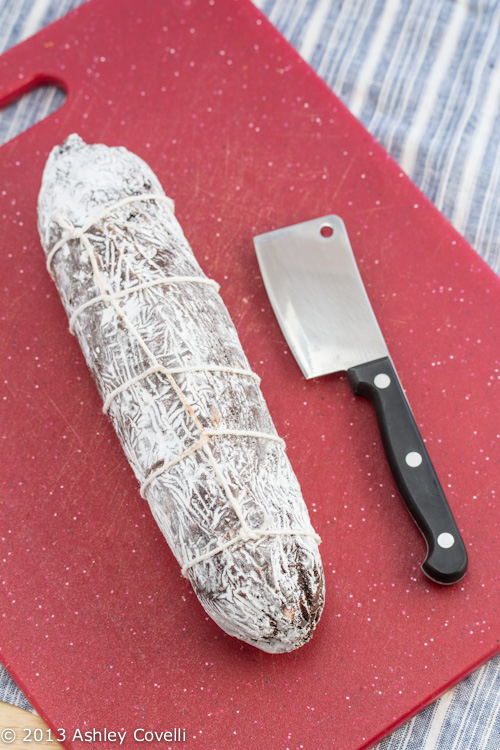 Yep. I went there. I saw this post a few months ago and immediately knew that I needed to make it for my husband for Valentine's Day. He loves Italian meats, and he loves chocolate, so what could be more perfect? This was super fun to make, and pretty easy considering how awesome it looks. I think next time (because, oh yes, there WILL be a next time), I'll use hazelnuts and Frangelico.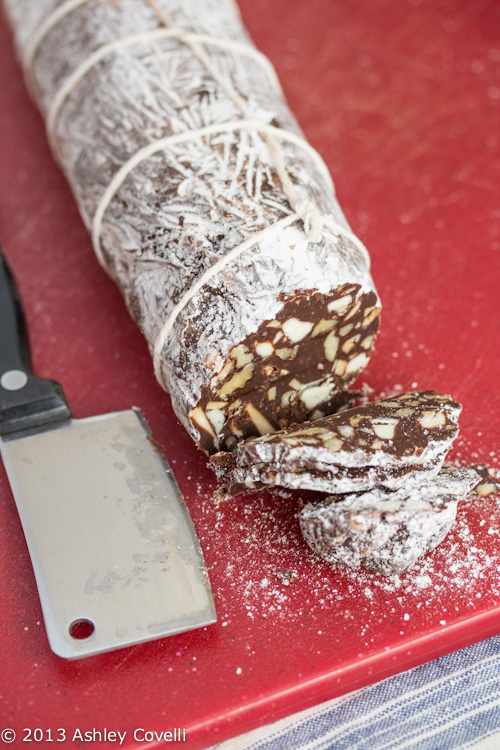 He was SO surprised, and totally in awe of how this thing turned out. He couldn't help himself...he was snapping photos of it with his iPhone every few minutes. I'd say it was a big success!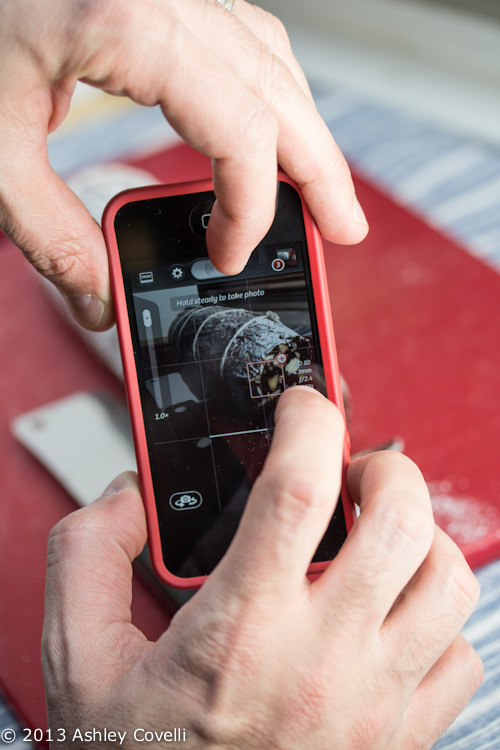 Orange Chocolate Dessert Salami (Saucisson Au Chocolat)
Always Order Dessert
1 cup slivered almonds or chopped walnuts (or mix of both)
½ cup crushed cookies (such as amaretti, shortbread, biscotti, etc.)
½ cup unsalted butter (1 stick), cut into pieces
2 cups bittersweet chocolate chips
¼ cup orange liqueur such as Triple Sec or Grand Marnier
1 teaspoon kosher salt
1 tablespoon grated orange zest
⅓ cup white chocolate chips
Confectioner's sugar, for dusting
Preheat oven to 350 degrees. Spread almonds or walnuts in a single layer on a baking sheet and bake until nuts are lightly toasted--about 7 minutes. Remove from oven and let cool.
Combine chopped butter and chocolate in a large bowl in the microwave and melt at 30 second intervals, stirring in between until chocolate and butter are completely melted and smooth. (Can also be done in a pot over very low heat.) Stir in the orange liqueur and mix until combined and smooth. Add the toasted nuts, crushed cookies, kosher salt, and orange zest, mixing until evenly combined. Gently fold in the white chocolate chips.
Cover the bowl and refrigerate about 1 ½ hours, or until mixture has firmed up a bit and is moldable. (Don't chill too long or you won't be able to get it out of the bowl--if that happens, pop in the microwave for 30 seconds until you can mold it.)
Spread a sheet of plastic wrap on your counter and turn the mixture out onto it (you can divide it into two for 2 smaller sausages or just make one big, thick one). Use your hands to form the mixture into a log-like shape and then wrap up in the plastic wrap, twisting the ends to form a tight seal. Gently place in the fridge (I like to place it on something soft like a bag with mixed greens to help it keep the round shape, but it's not necessary). Let chill until firm--about 4 hours.
Remove from fridge, unwrap and use your hands to rub the outside with powdered sugar, just like a real sausage! Let sit at room temperature about 1 to 2 hours before serving. Serve sliced along with coffee and after-dinner drinks.
To store, wrap tightly in plastic wrap. Will keep in the fridge about 2 weeks. Can also be frozen indefinitely.
Variations:
You can feel free to substitute any kind of nuts--pistachios, pecans, peanuts, etc. You can also use dried fruit, mini marshmallows, pieces of stale cake or chopped brownies/blondies, etc. To change the flavor, swap the orange liqueur for amaretto, Kahlua, or Frangelico--even a peppermint shnappes would be fun! You can use black coffee or heavy cream for a non-alcoholic version.
Big Flavors Rating: 4 Stars