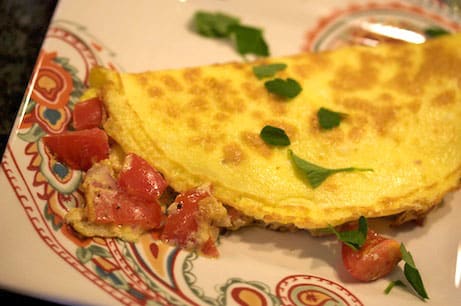 Tomato, Red Onion and Parmesan Omelet
Dino made his first breakfast in our new kitchen and it was fantastic! And since our dining room is still full of kitchen items (we're slowly but surely getting them all back in their places) we ate in the kitchen. That's right…our tiny kitchen actually has enough space for us to both set a plate down on the countertop to eat! OMG!! We never thought it would be possible!
Anyway, he made wonderful omelets. Mine was tomato, red onion and Parmesan cheese. I wanted a little parsley in mine but I didn't think about it until after so I just sprinkled it on top. He wanted me to make sure to note that he did not do that…he thought it looked pretty ridiculous haha! But my oh my was it tasty! His omelet was turkey, ham and Swiss cheese. And we finally were able to hook up our coffee maker again, so we had our first home brewed coffee in about 5 weeks. It was perfect!