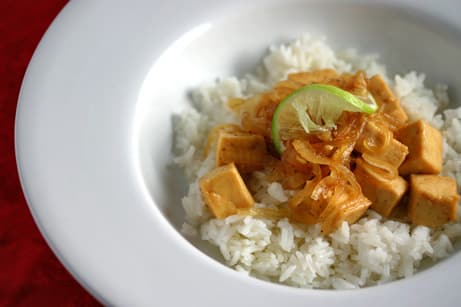 Tofu and Onions in Caramel Sauce
This post may contain affiliate links. Thank you for supporting the brands that keep me creative in my tiny kitchen!
I've been wanting to try this recipe for a while now, and I'm glad I finally did! It's an interesting combination of flavors, and an extra squeeze of lime over your plate at the end really balances out the sweetness of the sauce. My only complaint is that I hate the smell of fish sauce – especially when it's heated up – but if you can get past the smell, it really is quite tasty.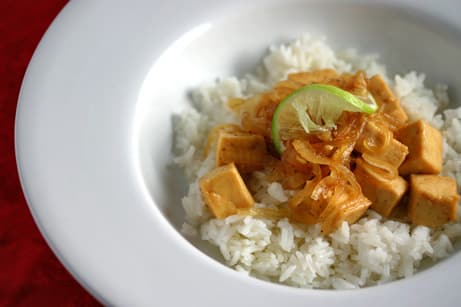 Tofu and Onions in Caramel Sauce
New York Times – Mark Bittman
½ cup sugar
¼ cup nam pla (Asian fish sauce) or soy sauce
1 large onion, thinly sliced
1 teaspoon freshly ground black pepper, or to taste
1 lb. firm tofu, cut into chunks of 3/4 inch to 1 inch
1 tablespoon butter, optional
1 tablespoon lime juice or vinegar, or to taste
Salt if necessary
White rice for serving
1. Put sugar and a tablespoon of water in a 10- or 12-inch skillet, preferably nonstick, over medium heat. Cook, shaking pan occasionally, until sugar melts and browns a bit. Turn off heat, and carefully add nam pla or soy sauce. Turn heat to low, and add onion. Cook, stirring, 5 to 10 minutes, until onion is very tender. Add pepper and tofu.
2. Gently simmer, turning tofu once or twice in sauce so it is glazed and heated through, about 10 minutes. Stir in butter, along with lime juice or vinegar. Taste, and add salt, more pepper or lime juice or vinegar if you like. Serve immediately over rice.
Yield: 4 servings.
MacGourmet Rating: 4 Stars