This post may contain affiliate links, which won't change your price but will share some commission.
I found this blog post through Pinterest, and I was instantly intrigued. Really? Cauliflower as a pizza crust? Could it be? Dino has been on a low carb kick lately, and one of the things he misses most is pizza. Could this really be an acceptable substitute? The answer is an enthusiastic YES! OMG! This stuff really tastes like pizza! It was incredible! I have some of the riced cauliflower left and I plan to make a few more pizzas with it, because it was SO tasty, and also because I didn't cook it totally right. Mine was still a little soggy in the middle, and I definitely didn't wait long enough before topping it, so it wasn't as firm as it should have been. But seriously, WOW. This falls under the category of "we'd give it an extra half star if we did halves...". I even think I'll try to convince my cauliflower-hating friend Jerry to give it a try. Fair warning though - it does smell horribly like cauliflower while you're microwaving it. But I promise, the crust doesn't taste like cauliflower at all! Yum!!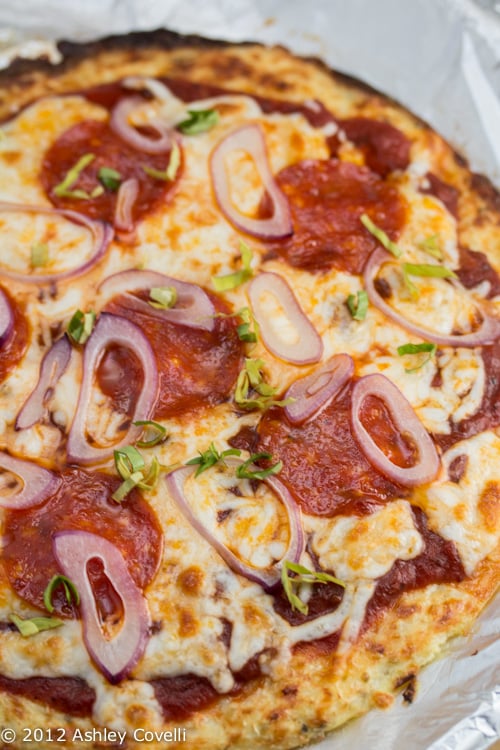 The Astonishing Cauliflower Pizza Crust
One Good Thing by Jillee
Adapted from eat. drink. smile.

Ingredients:
1 cup cooked, riced cauliflower
1 cup shredded mozzarella cheese (I used an italian blend)
1 egg, beaten
1 teaspoon dried oregano
½ teaspoon minced garlic
½ teaspoon kosher salt
olive oil (optional)
pizza sauce, shredded cheese and your choice of toppings*
Directions:
Remove stems and leaves from 1 head of cauliflower, and chop the florets into chunks. Add to your food processor and pulse until it looks like grain. Do not over-do pulse or you will puree it. (You can also use a cheese grater). Place the "riced" cauliflower into a microwave safe bowl and microwave for 8 minutes (may need to adjust according to your microwave). No need to add water.
One large head will produce between 2 and 3 cups of riced and cooked cauliflower. The remainder can be used to make additional pizza crusts immediately, or can be stored in the refrigerator for up to a week.
To make the pizza crust:
Preheat oven to 450 degrees. Spray a cookie sheet with non-stick cooking spray (or use non-stick aluminum foil on a cookie sheet, which is what I did). In a medium bowl, stir together 1 cup cauliflower, beaten egg and mozzarella. Add oregano, minced garlic and salt, mix well. Transfer the mixture to your cookie sheet, and pat out into a 9″ round.
Bake at 450 degrees for 15 minutes.
Remove from oven and let cool awhile. This helps to make the crust more solid.
To make the pizza: add sauce, toppings and cheese. Place under a broiler at high heat just until cheese is melted (approximately 3-4 minutes). *Toppings need to be precooked since you are only broiling for a few minutes.
Big Flavors Rating: 4 Stars