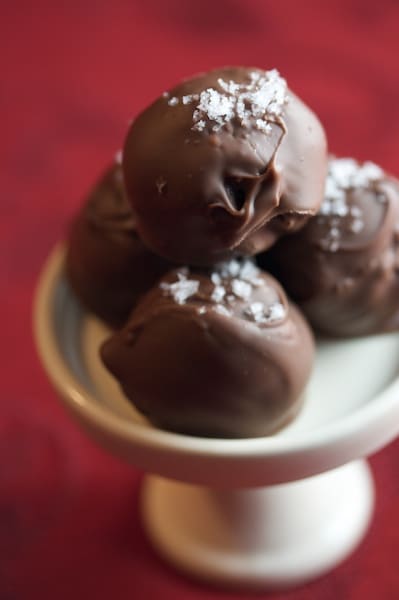 Thanksgiving: Chocolate Truffles with Sea Salt
This post may contain affiliate links. Thank you for supporting the brands that keep me creative in my tiny kitchen!
I wanted to try out one new recipe for Thanksgiving this year, and I had a feeling that The Pioneer Woman wouldn't disappoint. These truffles might sound kinda weird, but I couldn't resist trying out this sweet/salty combo. They rocked! The middles are like velvet – they're rich and devilishly chocolaty. They look impressive, too – they were a huge hit!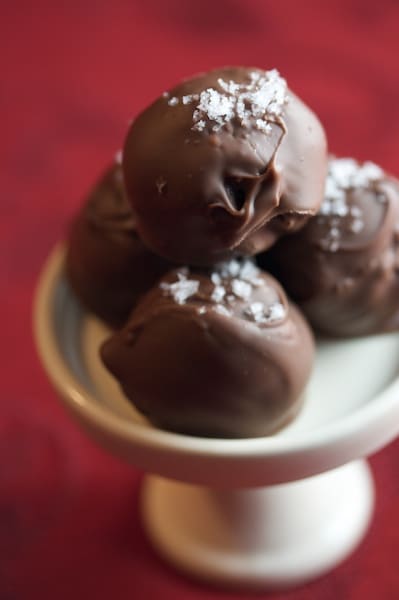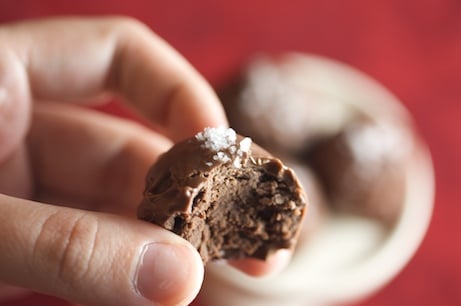 Chocolate Truffles with Sea Salt
The Pioneer Woman
Prep Time: 2 Hours
Cook Time: 15 Minutes
Difficulty: Easy
Servings: 36
8 ounces, weight (up To 9 Oz.) Good Semisweet Chocolate
8 ounces, weight (up To 9 Oz.) Good Bittersweet Chocolate
1 can (14 Oz) Sweetened Condensed Milk
1 Tablespoon Vanilla Extract
8 ounces, weight Meltable Milk Chocolate
Sea Salt
Heat dark chocolates and condensed milk in a double boiler over medium low heat until chocolate is melted. Stir—mixture will have a slight marshmallow texture. Stir in vanilla.
Remove from heat, cover and refrigerate for two hours.
Once chilled, roll in balls, then roll in melted milk chocolate coating. Sprinkle with sea salt or other fine, coarse sprinkles.
MacGourmet Rating: 5 Stars