Thanksgiving: Bourbon Cranberry Sauce
This post may contain affiliate links. Thank you for supporting the brands that keep me creative in my tiny kitchen!
You had me at "bourbon". This was a last minute addition to what I planned to bring for Thanksgiving dinner. My husband loves the canned cranberry sauce, and I don't think he's ever tried the whole berry stuff. So I saw this recipe and knew I just had to try it. It ended up being the surprise hit of the evening! Even people who typically don't like cranberry sauce enjoyed it. I did run into a slight problem while preparing it though…When I took it out of the oven to stir it halfway through, I moved it to the bottom rack to make room for something else, and a few minutes later, Dino noticed that it had bubbled over and was burning all over the bottom of the oven. Oops! So we lost some, and it didn't cook nearly as long as it was supposed to, and I was rushed when I took a picture of it…but it was divine. I'll definitely be making this again and again and again!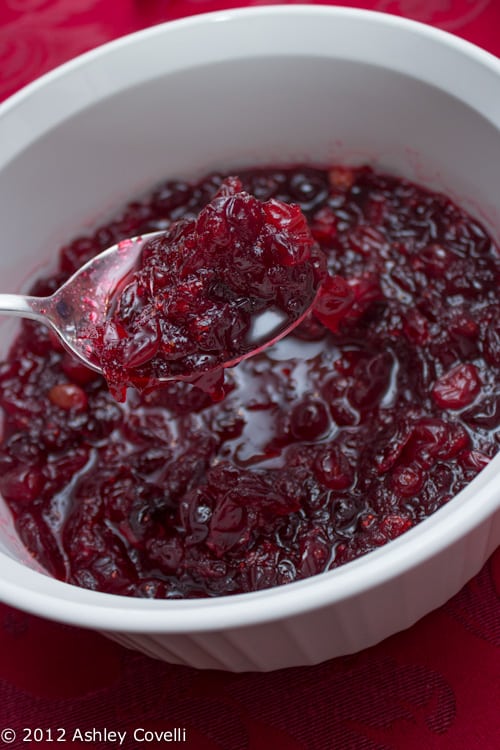 Bourbon Cranberry Sauce
Bon Appétit November 1991
yield: Makes about 3 cups
1 pound (about 4 cups) cranberries
2 cups sugar
1/4 teaspoon ground cinnamon
1/4 cup bourbon
Preheat oven to 350°F. Combine first 3 ingredients in 9×13-inch baking dish. Cover tightly with foil and bake until cranberries are tender and sugar is dissolved, stirring once, about 1 hour. Remove from oven and stir in bourbon. Refrigerate cranberry sauce until well chilled. (Can be prepared 1 week ahead.) Transfer to bowl and serve.
Big Flavors Rating: 5 Stars