This post may contain affiliate links, which won't change your price but will share some commission.
I had some cooked rice noodles leftover from when I made Pho last weekend, so I decided to try to put something together to use them up. I've really been working on getting better at using up leftovers and not being wasteful. It's not only better for our bank account, but it makes me have to be creative and sometimes, like tonight, it really pays off! I had some shrimp in the freezer, so I thought it would be fun to try out a Thai spin on Fettuccine Alfredo. My husband is lactose intolerant, so this was a nice, light, dairy-free, gluten-free version of a classically heavy pasta dish. It was pretty easy to put together, and it turned out awesome! The shrimp were tender and the noodles were coated in a creamy, sweet and subtly spicy sauce. You could definitely add more curry paste (or even some Sriracha at the end) to make this spicier. The brightness of fresh lime juice on top and sprinkling of cilantro really brought it together. I was really happy with how well this turned out - it will definitely be a go-to quick and easy weeknight dinner for us from now on!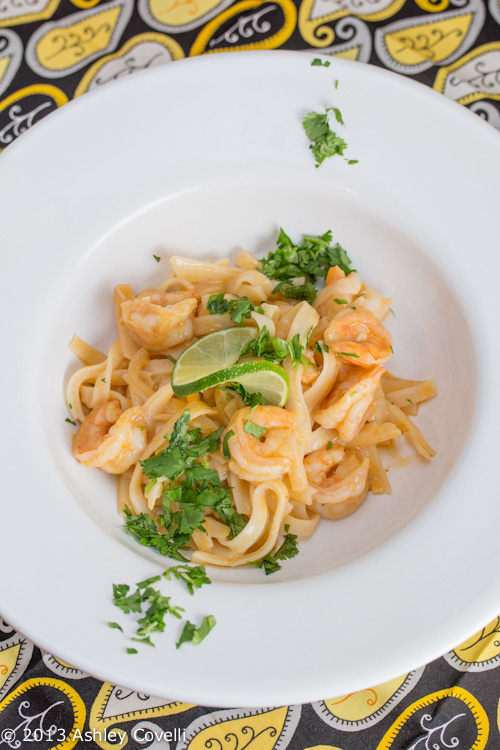 Thai Shrimp "Alfredo"
Ashley Covelli
2 tablespoons vegetable oil
2 cloves garlic, minced
½ small yellow onion, thinly sliced (about 2 tablespoons)
1 tablespoon red curry paste
1 teaspoon fish sauce
1 tablespoon low sodium soy sauce*
1 tablespoon freshly squeezed lime juice
1 pound large shrimp, peeled and deveined
13.5 ounce can unsweetened coconut milk
½ pound cooked rice noodles
Kosher salt, to taste
Cilantro, chopped, for garnish
Lime wedges, for garnish
Heat oil in a large nonstick skillet over medium heat. Add garlic and onion and sauté until fragrant. Add curry paste, fish sauce, soy sauce and lime juice and cook until the curry paste softens fully and coats the garlic and onion. Add shrimp and sauté until they are almost cooked through. Pour in coconut milk and stir. Add noodles and continue to cook, stirring occasionally, until the shrimp is fully cooked and the sauce and noodles are heated through. Season with salt and serve with cilantro and lime on top.
*Optional: use Gluten Free
Big Flavors Rating: 5 Stars