This post may contain affiliate links, which won't change your price but will share some commission.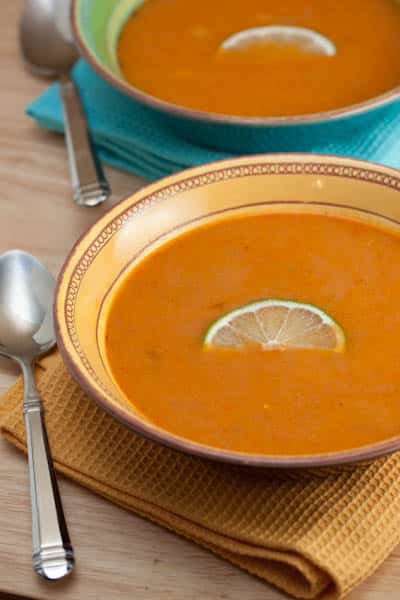 This is the second recipe that I made from the Alice's Tea Cup cookbook, and it was fantastic! The flavor was a lot more complex than I was expecting it to be. The coconut milk added a nice creaminess to the soup, and even though it was a very broth-y soup, it was still filling. It was smooth and spicy, and the tangy lime juice finished it off really nicely. Every few bites, you get some chickpeas, which was a welcome bit of texture. We really loved this!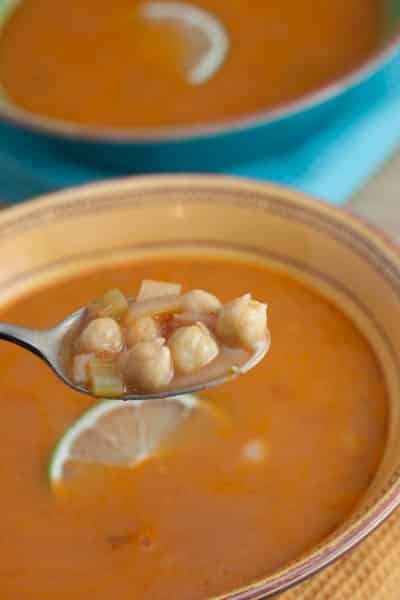 Thai Chickpea Soup
Alice's Tea Cup - Haley Fox & Lauren Fox
Makes 8 to 10 servings
2 tablespoons unsalted butter
¼ cup minced jalapeño pepper
½ cup chopped celery (1 medium stalk)
¾ cup chopped yellow onion (1 medium to large onion)
8 cups good-quality chicken stock (we recommend Imagine brand)
One 13.5-ounce can coconut milk
One 13.5-ounce can crushed tomatoes (we recommend Muir Glen)
¼ cup freshly squeezed lime juice
Two 13.5-ounce cans chickpeas, drained
Kosher salt and freshly ground black pepper
1. Heat the butter in a medium sauté pan over low heat. Add the jalapeños, celery, and onions, and sauté until the vegetables have softened, about 5 minutes (take care not to burn them).
2. Combine the vegetables with the stock, coconut milk, tomatoes, and lime juice in a large soup pot or dutch oven. Cover, and cook for 5 minutes, or until they are heated through. Add salt and peppers to taste, and serve.
Big Flavors Rating: 5 Stars