This post may contain affiliate links, which won't change your price but will share some commission.
We really love tofu recipes, because it's a great way to have a substantial vegetarian meal. It's a great palette for different flavors and marinades, and this one that I found on the Epicurious app was great! It was only a 10 minute marinade, and it comes together really quickly. I added some toasted sesame seeds on top, and I think it would benefit greatly from a nice squeeze of fresh lime juice. I served it over white rice, and since it was so hot outside, used my rice cooker for the first time in a while to avoid heating up another pan on the stove. It worked out great! The parts where the honey from the marinade caramelized on the edges of the tofu were especially tasty!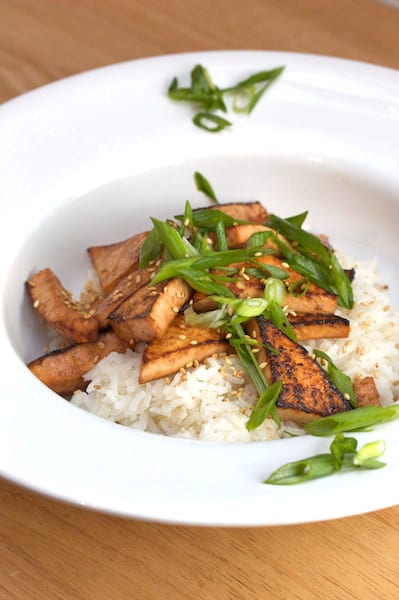 Teriyaki Tofu Triangles
The Vegetarian Family Cookbook - Nava Atlas
Teriyaki marinade:
2 tablespoons reduced-sodium soy sauce
1 tablespoon light olive oil
1 teaspoon dark sesame oil
1 tablespoon honey or maple syrup
2 teaspoons rice vinegar or white wine vinegar
½ teaspoon grated fresh ginger or a good pinch of ground ginger
2 teaspoons hoisin sauce, optional
One 16-ounce tub extra-firm tofu
1 or 2 scallions, thinly sliced, optional
1. Combine all the ingredients for the marinade in a small bowl and stir together.
2. Cut the tofu into ½-inch-thick slices. Blot well between clean tea towels or several layers of paper towels, then cut each slice through the thickness again to make ¼-inch-thick slices. Blot briefly again.
3. Cut each slice into 2 squares, then each square on the diagonal into 2 triangles. Place in a shallow pan and drizzle with the marinade. Gently turn the tofu pieces over so that both sides are coated with marinade. Let stand for 10 minutes or so.
4. Heat a wide nonstick skillet. Transfer the tofu and marinade into the skillet. Cook over medium-high heat, stirring gently and frequently, until the tofu is nicely browned on most sides.
Scatter scallions over the tofu if desired, and serve at once.
MacGourmet Rating: 4 Stars