This post may contain affiliate links, which won't change your price but will share some commission.
Jaden strikes again! I thought that salmon would be a good idea for dinner, since it's so soft and flaky that Dino could eat it without much strain on his jaw. He was soooo glad to be eating a "real" meal again, and this one really fit the bill! Who would have thought that you could make an easy version of teriyaki sauce with only 3 ingredients? This meal is insanely simple to prepare, and super tasty. I just know I'll be making it again and again - it was a perfect weeknight meal.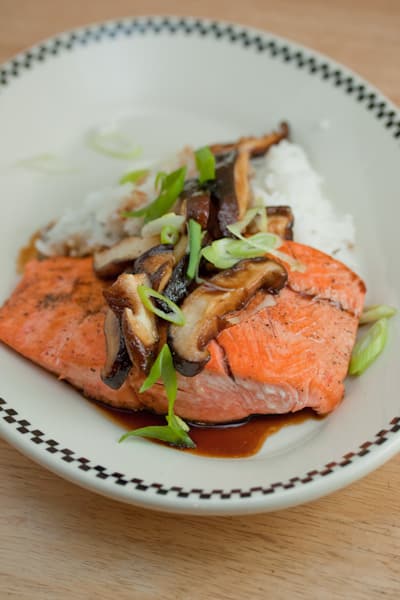 Teriyaki Mushroom Sauce with Grilled Salmon
Jaden's Steamy Kitchen
Servings: 4 Prep Time: 5 Cook Time: 10
Ingredients:
Four 6-ounce salmon fillets
salt and freshly ground black pepper
12 ounces fresh king oyster mushrooms or fresh shiitake mushrooms, sliced
1 ½ tablespoons cooking oil, separated
1 stalk green onion, thinly sliced (optional)
for the Easy Teriyaki Sauce
¼ cup soy sauce
¼ cup mirin (Japanese sweet rice wine)
2 tablespoons sugar (or more if you like a sweet teriyaki)
Directions:
1. To make the Easy Teriyaki Sauce, whisk all the sauce ingredients in a small sauce pan and simmer on low for 3 minutes, until the sauce has thickened slightly.
2. Brush salmon fillets with 1 tablespoon of the cooking oil, season with salt and pepper. Heat a frying pan over high heat. and cook for 3-4 minutes on each side, until just cooked through. Remove the salmon to a plate to let rest.
3. Return the frying pan to the stove on medium-high heat. When hot, add the remaining ½ tablespoon of cooking oil. Add the mushrooms and saute for about 2 minutes. Reduce heat to low and add the teriyaki sauce, let simmer for 1 minute. Serve the teriyaki mushrooms on top of the salmon. Garnish with green onion, if desired.
Big Flavors Rating: 5 Stars