This post may contain affiliate links, which won't change your price but will share some commission.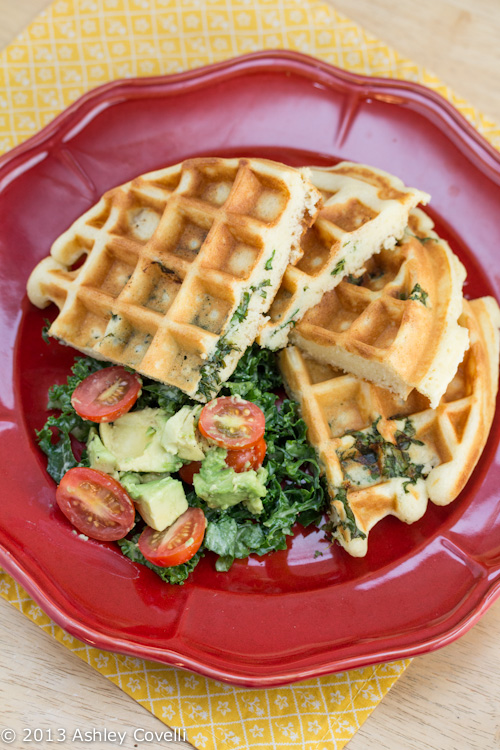 I recently discovered this post on Spabettie via Pinterest. Stuffing waffles? How had this never occurred to me before?! So when my friend Alexsis and her daughter came over today, we planned on making stuffed waffles. We were totally going to make the tomato cheese ones, but then I got to poking around on the site and saw one that featured kale. Gasp! It sounded amazing! I didn't want to have to get a ton of stuff from the store that I was unsure if I could find (like xanthan gum), so I decided to improvise a bit. I used a tweaked version of her kale chiffonade salad along with a tweaked version of one of our favorite breakfast Belgian waffle recipes. If you want to make the waffles vegan, use the recipe on her site. These were savory and delicious. And the possibilities for stuffing combinations are endless!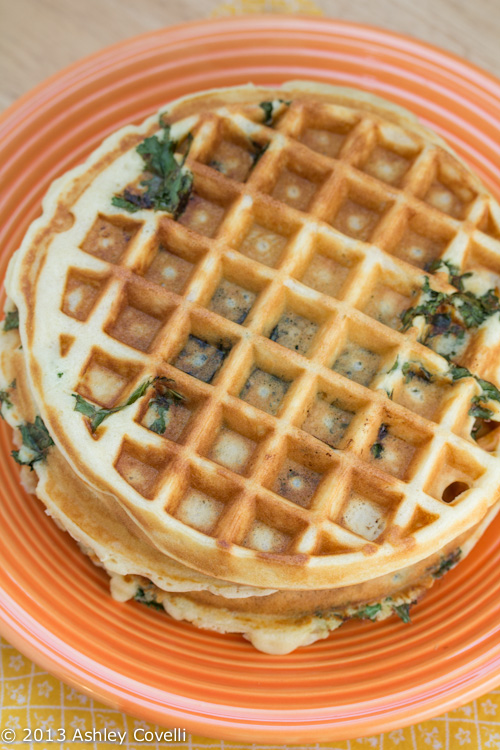 Tahini Kale Stuffed Belgian Waffles with Avocado Tomato Salad
Adapted from Spabettie and allrecipes.com - Megan
For the waffles:
2 cups all-purpose flour
1 teaspoon salt
4 teaspoons baking powder
2 eggs
1 ½ cups warm milk
⅓ cup butter, melted
vegetable oil spray
For the kale salad:
3 tablespoons tahini, plus extra, for serving
juice of 1 lemons
1 large bunche kale, stems and ribs removed
1 avocado, diced
handful grape or cherry tomatoes, halved
kosher salt and freshly cracked black pepper
Prepare the waffle batter - in a large bowl, mix together flour, salt and baking powder; set aside.
In a separate bowl, beat the eggs. Stir in the milk and butter. Pour the milk mixture into the flour mixture; beat just until barely blended. Let stand for 10-20 minutes.
Preheat waffle iron to desired temperature.
Meanwhile, prepare the kale salad - in large bowl, whisk together tahini, lemon juice and salt + pepper, set aside. Remove stems/ribs from each kale leaf, roll tightly and chiffonade. Place in bowl with tahini lemon. Use hands to massage, coating thoroughly. Add salt and pepper to taste.
Fully coat the iron with cooking spray. Pour a small amount of batter (¼ to ⅓ cup, depending on size of iron) into prepared waffle iron, add tahini kale salad to the middle (leaving an inch or so border), cover with another ¼ cup batter. Close and cook per machine instructions.
To serve, put waffles on the plate and add a pile of kale salad on the side. Sprinkle avocado and tomatoes on top of the salad and season to taste with salt and pepper. Drizzle extra tahini over the waffles for some extra flavor.
Enjoy!
Big Flavors Rating: 5 Stars