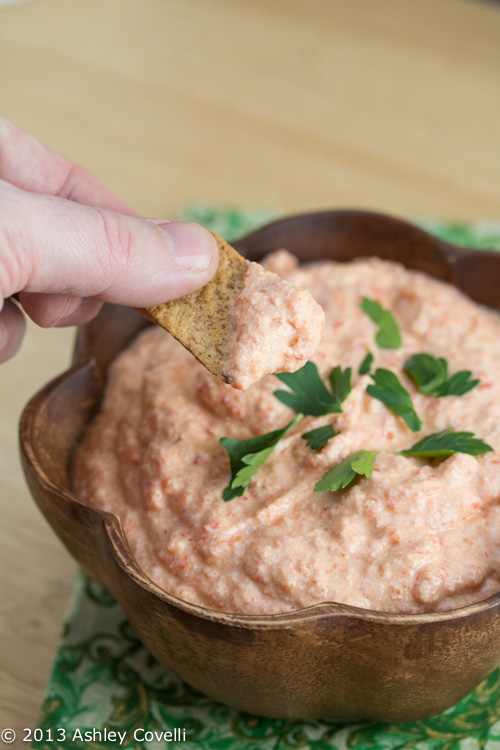 This post may contain affiliate links, which won't change your price but will share some commission.
A few days ago, a reader asked me what brand/type of egg roll wrappers I used when I made Avocado Egg Rolls with Chipotle Ranch Dipping Sauce. I wanted to include a link to the brand that I used (Nasoya), and when I was on their website, I saw something called Tofu U. I love tofu, and was immediately intrigued. A little poking around on their website led to me finding an awesome program they're doing called Tofu U, where you they're encouraging people to try to cook with tofu more often. If you pledge to do it once a a week for a month, they'll send you coupons and let you get swag when you "graduate".
I love cooking with tofu, so I figured I'd sign up! I decided to use one of the recipes from their site, since I hadn't tried any of them before. This recipe has you roast your own bell peppers and blend them with tofu and a few other ingredients to make a dip. Here's a great tutorial on how to roast peppers at home if you've never done it before. Unfortunately, we didn't feel like this recipe had much flavor. I feel like it needs at least twice the amount of roasted peppers and some other seasoning to make it better. It was really light and fluffy, but just didn't taste like a whole lot. Dino added some Sriracha to it, and that helped it out some, but it still didn't really do it for us. I was really bummed about this, because there are tons of great tofu recipes out there, but this one is just pretty bland. Ah well, it takes some trial and error to get great stuff out of the kitchen sometimes. If you're new to tofu, don't let this recipe discourage you! Check out some of our biggest tofu hits to find some inspiration.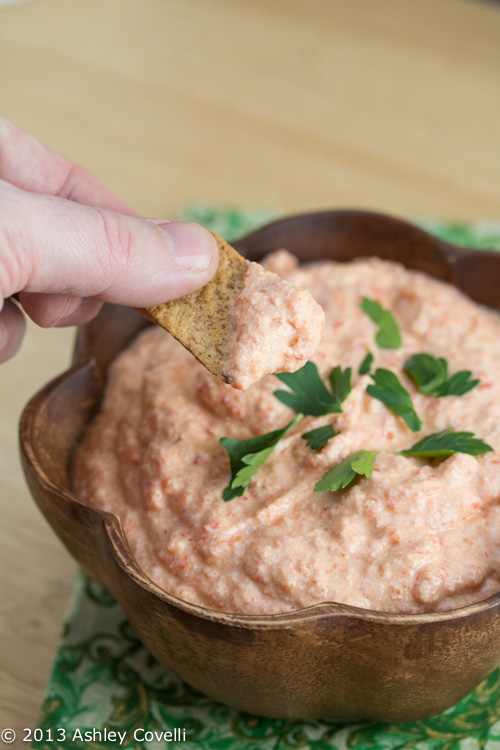 Sweet Red Pepper Dip
Nasoya Tofu U
Servings: 8
Ingredients:
1 pkg Nasoya extra firm tofu, drained
2 large red bell peppers, roasted, peeled, seeded and chopped
1 clove garlic, minced and pressed
1 tbls lemon juice
2 tsp olive oil
1 tsp white pepper
Preparation Method: Pat roasted bell peppers dry with paper towels. Place in a food processor with remaining ingredients and process until smooth. Place in a serving bowl and cover and refrigerate until ready to use. Makes 2 1/2 cups.
Nutrition Facts:
Per Single Serving
Calories 70
Calories from Fat 30
Total Fat 3.5g
Saturated Fat 0g
Trans Fat 0g
Cholesterol 0mg
Sodium 15mg
Total Carbohydrate 5g
Dietary Fiber 2g
Sugars 2g
Protein 6g
Big Flavors Rating: 2 Stars