This post may contain affiliate links, which won't change your price but will share some commission.
I was looking for a new dumpling or potsticker recipe and came across this post. Wow! What beautiful dish! I decided to try these out, and it was perfect timing because I had some ricotta leftover from when I made Kale Ricotta Dip last weekend. Instead of fussing with closing them by hand, I used my dumpling makers to make them look pretty. I didn't want to get too fussy in the middle of the week, after all! I was a little confused as to why these were called pot stickers when they're baked, but I figured it was easier than the sticky mess of steaming them. After eating them, however, I've decided that I'd prefer them steamed. The filling and dipping sauce are both wonderful, but the edges of them got a little too crispy for me (I have a cut on the roof of my mouth to prove it!), so next time...steamed it is. This is nice and fresh and makes a lot! Special thanks to my friend and mixology partner, Mara, for helping me with the pot sticker assembly line 🙂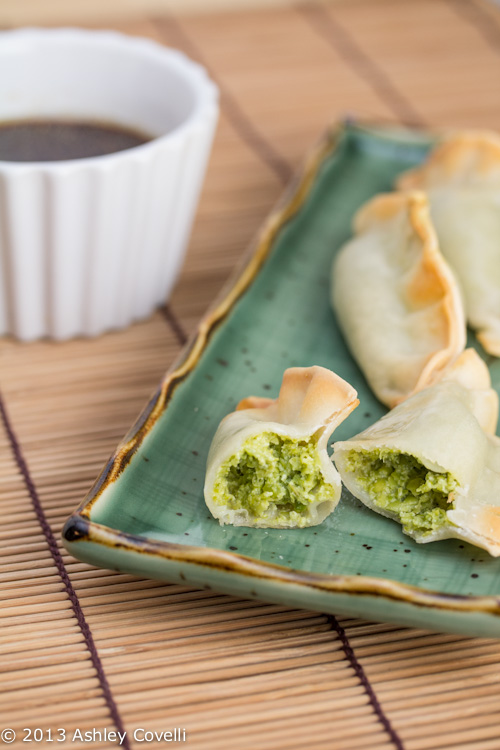 Sweet Pea Pot Stickers
White on Rice Couple (adapted from 101 Cookbooks)
YIELD: 36-48 POT STICKERS
TOTAL TIME: 1 HOUR
Baking these pot stickers make them less greasy and much healthier, resulting in a crispy, chewy texture.
about 2 cups (10 oz.) of frozen or freshly shelled peas
⅔ cup of low fat ricotta cheese
1 tablespoon sesame oil
1 tablespoon olive oil
½ teaspoon sea salt
⅓ cup grated Parmesan cheese
zest of one large lemon
1 package of wonton, gyoza or dumpling wrappers.
for the ginger soy dip:
¼ cup of regular soy sauce & ¼ cup cold water ( or ½ cup low sodium soy sauce)
1 tablespoons fresh lemon juice
about 2 tablespoons freshly minced or grated ginger root
1 teaspoon sesame oil
Bring water to boil in a medium saucepan, then add a little bit of salt to the water.
Cook the peas till they are soft. For frozen peas, this should take about 1-2 minutes. For fresh peas, this should take around 3-4 minutes, depending on size of peas. Remove saucepan from heat and drain the peas under cold water till peas are cool.
Pre-heat your oven to about 350 degrees.
In a food processor, blend the peas, ricotta cheese, sesame oil, olive oil and salt to a smooth or chunky texture, depending on your personal choice. Empty this mixture to a larger bowl and add parmesan cheese and lemon zest.
Add about 1 teaspoon of pea filling in middle of each pot sticker wrapper. Moisten the edges of the wrapper with a bit of water and fold over sides. There are many different shapes you can fold your pot stickers. Please visit Jaden's tutorial and Heidi's thorough write up for her dumping folding technique.
On sheet pan brushed with a light layer of grapeseed or vegetable oil, place all pot stickers about ½ inch from one another. Gently brush each potsticker with a light coating of vegetable or grapeseed oil. We prefer to use grapeseed oil because it's lighter, cleaner tasting and has a higher flash point for the oven temperature. Bake for about 15-20 minutes until pot sticker edges become golden brown. Rotate the sheet pan about 10 halfway during baking time to allow pot stickers to brown evenly.
For dip, combine all ingredients in a medium bowl.
Serve pot stickers with the ginger soy dip.
Big Flavors Rating: 4 Stars