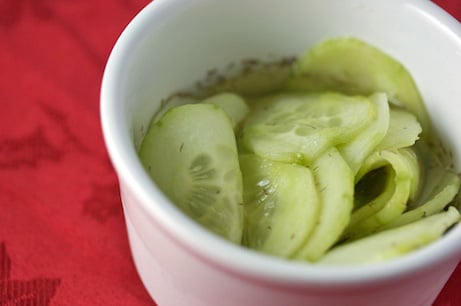 This post may contain affiliate links. Thank you for supporting the brands that keep me creative in my tiny kitchen!
I served this on the side of the tofu dish, and it was really good! I wanted to use fresh dill from my garden, but some critters got into the plant and have deterred me from ever growing it again. So I used dried. This was really easy and good – next time I make a similar dish, I'm going to use honey instead of sugar and add some onions and carrots to it. I think that would really knock it out of the park.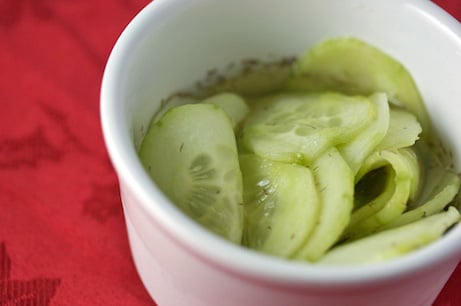 Sweet-and-Sour Cucumbers
Cooking Light March 2000
4 cups thinly sliced peeled cucumber (about 3 large)
3 tablespoons sugar
½ teaspoon salt
¼ cup cider vinegar
1 tablespoon chopped fresh or 1 teaspoon dried dill
Place the first 3 ingredients in a large bowl; toss gently to coat. Stir in vinegar and dill. Cover and chill 2 hours.
Yield: 8 servings (serving size: 1/3 cup)
Nutritional notes:
CALORIES 32 (4% from fat); FAT 0.2g (sat 0.0g,mono 0.1g,poly 0.1g); IRON 0.3mg; CHOLESTEROL 0.0mg; CALCIUM 17mg; CARBOHYDRATE 7.7g; SODIUM 149mg; PROTEIN 0.6g; FIBER 0.7g
MacGourmet Rating: 4 Stars