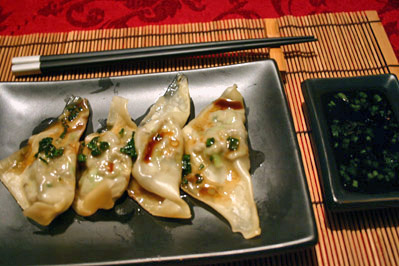 Supper Club: Zen Temple Dumplings
This post may contain affiliate links. Thank you for supporting the brands that keep me creative in my tiny kitchen!
This month's Supper Club theme was Stuffed Foods. It was a lot of fun! The main thing I made were these dumplings – they're a favorite in my house. The photo is from a few years ago before I had my lovely lighting setup.
These dumplings are filled with veggies but won't leave you hungry. The dipping sauce is the perfect accompaniment. I use a small cookie scoop to dish out the filling into each of the wonton wrappers, which makes them much easier to assemble. They freeze great and are sure to impress any guests that you have over.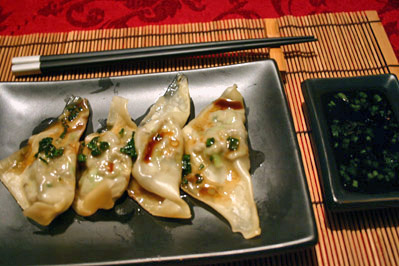 Zen Temple Dumplings
Cooking Light April 2007
"Zen" refers to a style of Buddhism (most Buddhists are vegetarian), and this dish is representative of what Zen Buddhist monks might eat at temples throughout Japan–hence the temple reference in the recipe title. Asparagus and green onions give these dumplings a lovely green hue. Enjoy them as an appetizer or a main course with a side of vegetables or tofu. The dumplings can be prepared up to a month in advance: Place uncooked dumplings on a baking sheet and freeze; store in zip-top freezer bags. To serve, steam the frozen dumplings for about 10 minutes or until the wonton wrappers are translucent.
Yield 9 servings (serving size: 4 dumplings and 2 teaspoons sauce)
Dumplings:
1 1/2 teaspoons coarsely chopped peeled fresh ginger
2 garlic cloves, peeled
1 cup (2-inch) slices asparagus (about 1/2 pound)
1/4 cup (1-inch) pieces green onions
1 (8-ounce) can whole water chestnuts, drained and coarsely chopped
1 (8-ounce) package mushrooms, stems removed
2 teaspoons dark sesame oil
1 1/2 teaspoons low-sodium soy sauce
1/4 teaspoon kosher salt
36 wonton wrappers
Cooking spray
Sauce:
1/3 cup low-sodium soy sauce
1 tablespoon minced green onions
2 tablespoons rice vinegar
2 teaspoons dark sesame oil
To prepare dumplings, drop ginger and garlic through food chute with food processor on; process until minced. Add the asparagus, 1/4 cup green onion pieces, and water chestnuts; pulse 4 times or until chopped. Add mushrooms, 2 teaspoons sesame oil, 1 1/2 teaspoons soy sauce, and 1/4 teaspoon salt; pulse 4 times or until mixture is finely chopped.
Working with 1 wonton wrapper at a time (cover remaining wrappers with a damp towel to keep from drying), spoon about 2 teaspoons mushroom mixture in the center of wrapper. Moisten edges of wrapper with water. Bring 2 opposite corners together. Press edges together with fingertips to seal, forming a triangle. Place on a baking sheet coated with cooking spray while assembling; lightly cover with a towel or plastic wrap. Repeat procedure with remaining wonton wrappers and mushroom mixture.
Add water to a Dutch oven to a depth of 1 inch; bring to a boil. Coat a metal vegetable steamer with cooking spray. Arrange 9 dumplings in steamer, slightly overlapping. Steam dumplings, covered, 8 minutes or until tender. Remove dumplings from steamer; cover and keep warm. Repeat procedure with remaining dumplings.
To prepare sauce, combine 1/3 cup soy sauce and remaining ingredients. Drizzle over dumplings.
Nutritional Information
Calories: 138 (18% from fat)
Fat: 2.7g (sat 0.4g,mono 0.9g,poly 1.1g)
Protein: 5.2g
Carbohydrate: 23.7g
Fiber: 2.3g
Cholesterol: 3mg
Iron: 2.1mg
Sodium: 585mg
Calcium: 28mg
MacGourmet Rating: 5 Stars