This post may contain affiliate links, which won't change your price but will share some commission.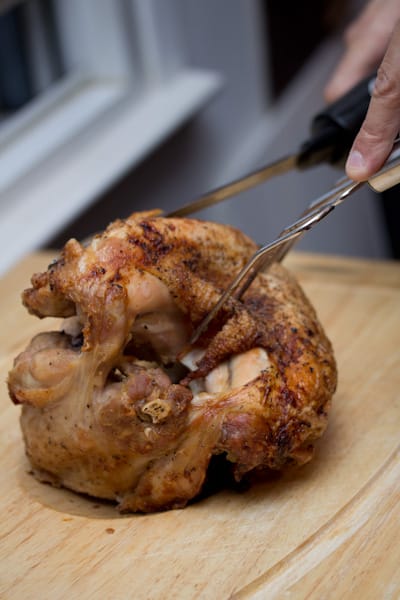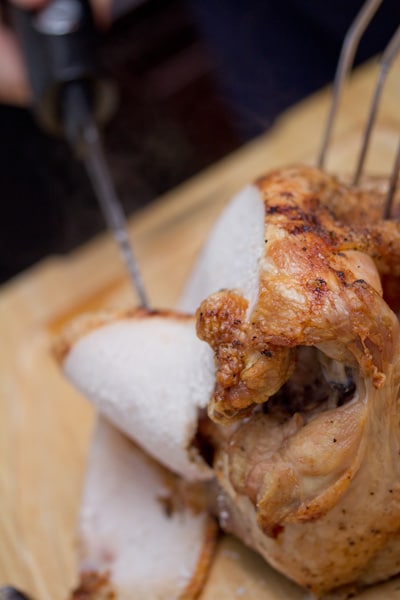 This month's Supper Club theme was apples. Dino wanted to make a turkey breast with apple chutney, so I found this recipe as a starting point. We didn't melt the butter - we softened it, and only used about half of the stick. I also did my own gravy but used similar ingredients to what the recipe called for. I didn't use anywhere near 4 cups of chicken broth though. I just eyeballed the amounts until it cooked down to a consistency I was happy with.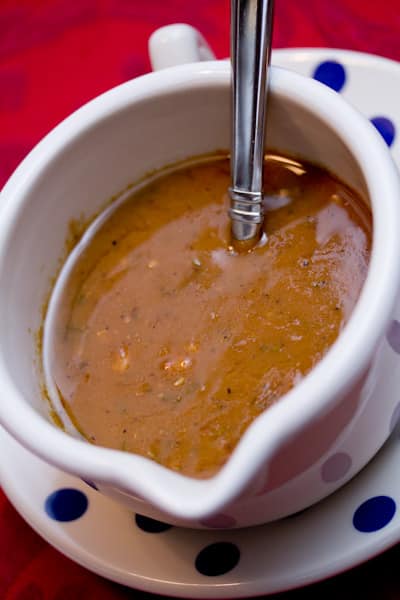 Turkey Breast with Gravy
How to Boil Water
Total Time: 7 hr 50 min
Prep: 20 min
Inactive: 4 hr 30 min
Cook: 3 hr 0 min
Yield: 8 to 10 servings
Turkey:
1 gallon water
1 cup kosher salt, plus more for seasoning
½ cup firmly packed light brown sugar
1 (6 to 7) pound turkey breast, on the bone
8 tablespoons unsalted butter, melted
Freshly ground black pepper
Gravy:
1 shallot, minced
4 cloves garlic, smashed
1 sprig rosemary, minced (about 1 tablespoon)
1 sprig thyme leaves, minced (about 1 teaspoon)
1 bay leaf
1 teaspoon kosher salt
Freshly ground black pepper
3 tablespoons unsalted butter
3 tablespoons all-purpose flour
4 cups low-sodium chicken broth
Heat the water, salt, and sugar in a large soup pot over high heat, stirring, until the salt and sugar has dissolved. Cool to room temperature then submerge the turkey breast in the brine. Refrigerate for 4 to 8 hours.
Remove the turkey from the brine and discard the brine. Pat the turkey breast dry and set aside. Preheat the oven to 325 degrees F. Brush the turkey breast all over with the butter. Season generously all over with salt and pepper. Put the turkey breast side up in a roasting pan. Roast for 2 to 2 hours and 45 minutes or until an instant-read thermometer inserted into the thickest part of the breast registers 170 or 175 degrees F. Transfer the turkey to a cutting board and tent loosely with foil for 30 minutes. (The breast temperature will continue to rise to 180 degrees F as it rests.)
Pour any pan drippings into a degreasing cup or small bowl. Reserve 2 tablespoons of the fat discarding the rest and add the separated juices to the stock. Add the reserved fat to the roasting pan and place on a burner over medium-high heat. Add the shallot, garlic, rosemary, thyme, and bay leaf, season with salt and pepper. Cook until shallot is tender, about 3 minutes.
Meanwhile, make a paste with the butter and flour in a small bowl, set aside. Add the broth and scrape up any browned bits from the bottom of the pan with a wooden spoon. Bring to a boil and whisk in the flour mixture. Boil until sauce thickens to make a gravy, about 4 to 5 minutes. Adjust seasoning, to taste. Remove and discard the garlic and bay leaf. Serve.
Big Flavors Rating: 5 Stars