This post may contain affiliate links, which won't change your price but will share some commission.
I didn't love this dish, but everyone else seemed to enjoy it. I'm not sure if it was just overshadowed by the more powerful flavors of the other dishes at our Supper Club event, or if my taste buds are just off lately. This has very mild flavors, and I suppose would make a nice, light lunch, but I probably won't bother making it again.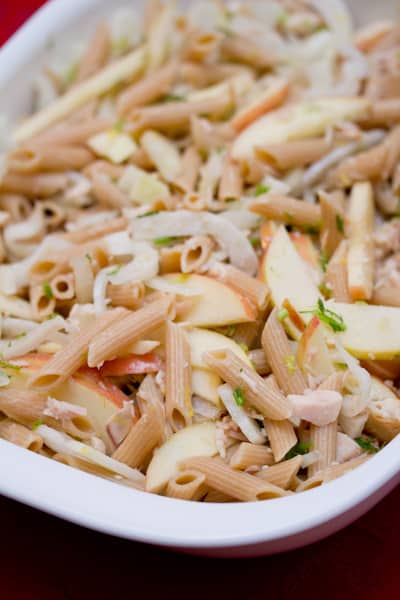 Tuna-Fennel Pasta Salad
Cooking Light September 2011
Sure, premium oil-packed tuna is a splurge, but the texture and rich flavor are worth it.
Yield: Serves 4 (serving size: 2 cups)
Total: 24 Minutes
8 ounces uncooked penne (tube-shaped pasta)
1 (7.8-ounce) jar solid white tuna packed in oil (such as Ortiz)
1 lemon
1 Fuji apple, sliced (about 1 ½ cups)
1 small fennel bulb with stalks
Cook pasta according to package directions, omitting salt and fat. Drain pasta in a large colander over a bowl, reserving ½ cup cooking liquid. Rinse pasta under cold water; drain. Drain tuna, reserving 2 tablespoons oil. Grate 2 teaspoons rind from lemon; squeeze 3 tablespoons juice. Combine reserved oil, rind, and juice in a large bowl; stir with a whisk. Add pasta to oil mixture, tossing to coat. Fold in tuna and apple. Remove fronds from fennel bulb; finely chop fronds to measure 3 tablespoons. Remove and discard stalks. Thinly slice fennel bulb. Stir fronds and sliced fennel into pasta mixture.
Add reserved pasta liquid and ½ teaspoon salt, tossing to coat pasta salad evenly.
Sustainable Choice: Industry label regulations require solid white tuna to be from the albacore variety.
Amount per serving
Calories: 411
Fat: 12.1g
Saturated fat: 1.9g
Monounsaturated fat: 6.7g
Polyunsaturated fat: 2.4g
Protein: 23.3g
Carbohydrate: 53.3g
Fiber: 5.1g
Cholesterol: 17mg
Iron: 2.8mg
Sodium: 549mg
Calcium: 52mg
Big Flavors Rating: 3 Stars