This post may contain affiliate links, which won't change your price but will share some commission.
This month's Supper Club theme was Indian. We hosted this month's event, so we ended up making a bunch of dishes to round out the meal. This was one of the mains that we made. The sauce was really tasty. I forgot to skin the chicken (oops!) but I don't think it made that big of a difference. Also, for some reason, the whole chicken I bought from the store, already cut up, was two breasts and four legs...I've never seen a chicken like that! Ha!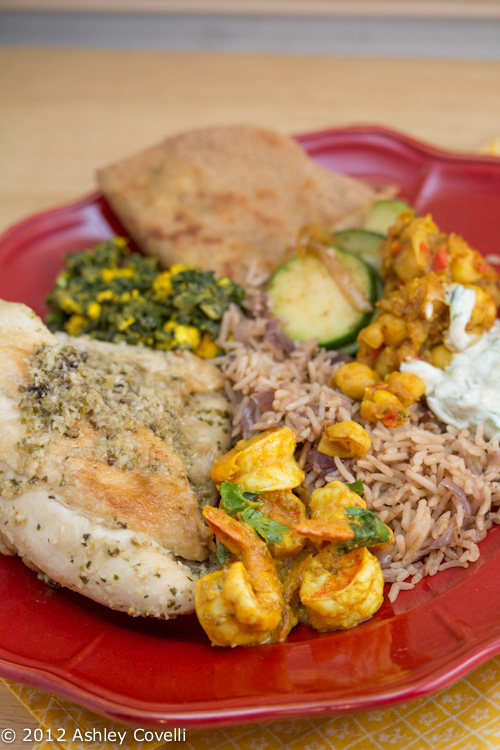 Thenga Kozhi (Coconut Chicken with Mustard Seed)
660 Curries: The Gateway to Indian Cooking - Raghaven Iyer
Serves 4
1 cup shredded fresh coconut; or ½ cup shredded dried unsweetened coconut, reconstituted (see Note)
¼ cup firmly packed fresh cilantro leaves and tender stems
1 ½ teaspoons coarse kosher or sea salt
1 teaspoon tamarind paste or concentrate
4 fresh green Thai, cayenne, or serrano chiles, stems removed
3 tablespoons canola oil
1 teaspoon black or yellow mustard seeds
1 chicken (3 ½ pounds), skin removed, cut into 8 pieces
1. Pour 1 cup water into a blender jar. Add the coconut, cilantro, salt, tamarind paste and chiles, and puree, scraping the inside of the jar as necessary, to make a smooth but slightly gritty paste.
2. Heat the oil in a large skillet over medium-high heat. Add the mustard seeds, cover, and cook until the seeds have stopped popping (not unlike popcorn), about 30 seconds. Immediately add the chicken pieces, meat side down in a single layer, cover, and cook the chicken until the underside is golden brown, 3 to 5 minutes. Turn the pieces over, cover, and cook until the other side is golden brown, 3 to 5 minutes.
3. Pour the coconut sauce over the chicken pieces, making sure the sauce covers each piece in addition to forming a small pool underneath them. Lower the heat to medium and simmer, uncovered, turning the chicken occasionally and basting it every 3 to 4 minutes, for about 15 minutes. Then reduce the heat to medium-low, cover the skillet, and simmer until the meat in the thickest parts of the chicken is no longer pink inside and the juices run clear, 10 to 12 minutes.
4. Transfer the chicken to a serving platter, pour the sauce over them, and serve.
Note: To reconstitute coconut, cover with ½ cup boiling water, set aside for about 15 minutes, and then drain.
Big Flavors Rating: 4 Stars