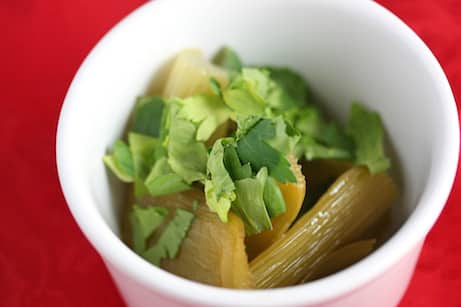 Supper Club: Apio (Sweet-and-Sour Celery)
This post may contain affiliate links. Thank you for supporting the brands that keep me creative in my tiny kitchen!
Dino made a really interesting celery dish for the Passover themed dinner. I'm not usually that into celery, but this gives it really great flavor. And it's a great way to use up celery if you have extra in the fridge. I often buy celery and only end up using a couple of stalks, and then feel guilty for wasting the rest. Now, I'll just make this with the leftovers instead!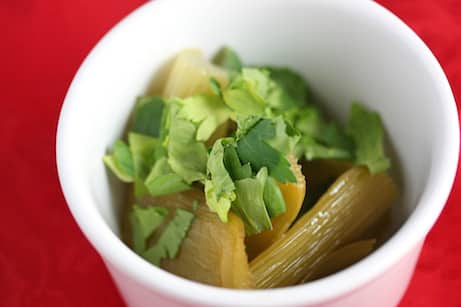 Sweet-and-Sour Celery
Gourmet April 2009
yield: Makes 8 (side dish) servings
active time: 15 min
total time: 45 min
Honey provides the sweet, and lemon juice the sour, in the Passover dish known as apio, which has origins in Turkey (the Ottoman Empire became a haven for Jews fleeing the Spanish Inquisition in 1492). As the celery cooks, it soaks up the braising liquid and becomes silky.
¾ cup water
¼ cup fresh lemon juice
3 tablespoons olive oil
3 tablespoons mild honey
4 lbs. celery (2 to 3 bunches; any dark green outer ribs peeled), cut into 2-inch pieces, reserving about 1 cup inner celery leaves
¼ cup finely chopped flat-leaf parsley
Cut a round of parchment paper to fit just inside a wide heavy 6-to 8-quarts pot, then set round aside.
Simmer water, lemon juice, oil, honey, 3/4 teaspoon salt, and 1/2 teaspoon pepper in pot, stirring, until honey has dissolved. Stir in celery (but not leaves) and cover with parchment round. Simmer until tender and liquid is reduced to about 1/4 cup, 35 to 40 minutes.
Meanwhile, coarsely chop reserved leaves.
Serve celery sprinkled with celery leaves and parsley.
What to drink:
Yarden Galilee
Cabernet Sauvignon '05
Cooks' note: Celery can be braised 1 day ahead and chilled. Reheat over low heat, adding more water if necessary, or reheat in a microwave. Add celery leaves and parsley before serving
MacGourmet Rating: 4 Stars