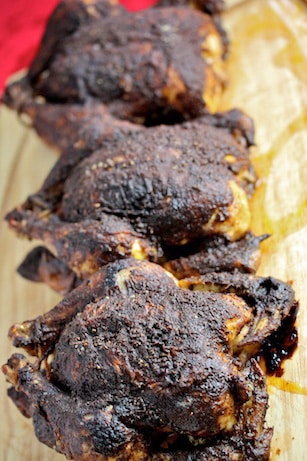 Supper Club: Spice-Rubbed Cornish Hens with Haroseth Stuffing and Sherry Jus
This post may contain affiliate links. Thank you for supporting the brands that keep me creative in my tiny kitchen!
This month's Supper Club theme was Passover, and it was a really fun challenge! I decided to make a Cornish Hen recipe, and it turned out fantastic! Because of the recent pistachio/salmonella scare, I used all almonds. The flavor was wonderful! The sauce and salsa verde added great flavor, and the stuffing had a really nice kick. I served the leftover stuffing with Manchego and matzo crackers, as recommended (I had a little more leftover, since I made 3 hens rather than 4).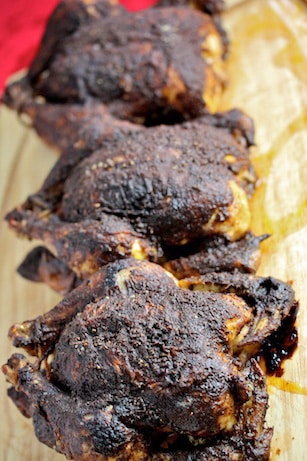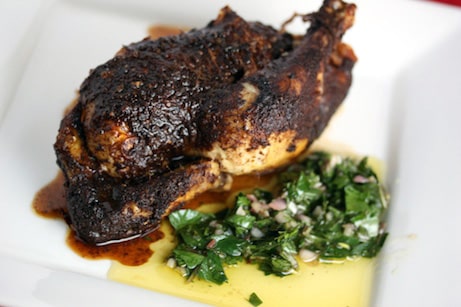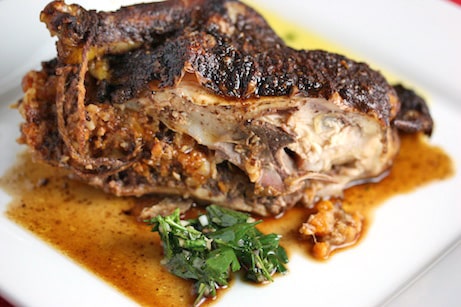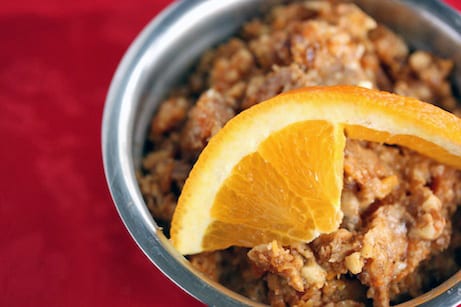 Spice-Rubbed Cornish Hens with Haroseth Stuffing and Sherry Jus
Gourmet April 2009
yield: Makes 8 servings
active time: 30 min
total time: 1 1/2 hr
Typically a ceremonial dish, haroseth becomes an inspired stuffing—dark and sweet—for Cornish hens seasoned seductively with allspice, cinnamon, cumin, and paprika. The tender meat and haroseth taste wonderful splashed with the rich jus (the Sherry is a nod to Spain), but we love the extra dimension added by the bright salsa verde, too.
1 tablespoon ground allspice
2 teaspoons cinnamon
1 teaspoon ground cumin
1 teaspoon sweet paprika
¼ cup extra-virgin olive oil
4 (1 1/4-to 1 1/2-pounds) Cornish hens
1 ⅓ cups apricot, date, and pistachio haroseth
1 cup medium-dry Sherry
1 cup water
* Accompaniment: parsley mint salsa verde
Preheat oven to 450°F with rack in middle.
Whisk together spices, 2 teaspoons salt, 1 teaspoon pepper, and oil in a small bowl.
Pat hens dry and stuff cavity of each with 1/3 cup haroseth. Place hens in a large flameproof roasting pan and rub all over with spice mixture, including underneath skin of breast meat (loosen skin gently with your fingers). Tuck wings underneath body, then secure legs together with a wooden pick or tie with kitchen string.
Roast hens 20 minutes, then brush with pan drippings. Continue to roast, basting every 10 minutes, until juices run clear when a thigh is pierced, 25 to 30 minutes more (45 to 50 minutes total). Transfer hens to a cutting board.
Straddle roasting pan across 2 burners and boil drippings, scraping up brown bits, 2 minutes. Carefully add Sherry (it may ignite) and boil 2 minutes (or until flames subside). Add water and boil, stirring, until sauce is slightly thickened and reduced to about 1 1/2 cups, 4 to 5 minutes. Transfer sauce to a measuring cup and let stand 1 minute, then skim off fat (or use a fat separator).
Serve hens, halved if desired, with sauce on the side.
What to drink:
Yarden Galilee
Cabernet Sauvignon '05
Apricot, Date, and Pistachio Haroseth
yield: Makes about 3 cups
active time: 15 min
total time: 15 min
Haroseth—a thick condiment of fruit, nuts, and wine—symbolizes the mortar the Israelites used in Egypt. Roberts's particular mix of almonds, pistachios, dates, and dried apricots, reflective of the Middle East, is outstanding (note that we prefer the sweet-tart complexity of California/Pacific apricots to the bland sweetness of Turkish ones). Enjoy leftover haroseth slathered on matzos or crackers; we discovered it's great with Manchego cheese as well.
⅔ cup whole almonds with skin, toasted and cooled
⅔ cup unsalted shelled pistachios
1 cup dried apricots (preferably California/Pacific), coarsely chopped (5 ounces)
⅔ cup pitted dried dates, coarsely chopped
½ cup cream Sherry
1 (3- by 1/2-inch) strip orange zest, finely chopped (1 teaspoon)
¼ teaspoon cinnamon
¼ teaspoon ground cardamom
¼ teaspoon cayenne
Pulse nuts in a food processor until coarsely chopped. Add dried fruit and pulse until chopped. Add Sherry, zest, and spices and pulse until incorporated.
Cooks' notes: •If dried fruit isn't soft, soak in boiling-hot water 10 minutes. Drain and pat dry before proceeding.
•Haroseth can be made 2 days ahead and kept in an airtight container at room temperature.
Parsley Mint Salsa Verde
yield: Makes about 2 cups
active time: 15 min
total time: 35 min
This salsa verde, which balances a meal full of spiced dishes, would also complement anything from grilled steak to steamed vegetables.
⅔ cup extra-virgin olive oil
⅓ cup Sherry vinegar
2 tablespoons water
2 large garlic cloves, finely chopped
¼ cup finely chopped shallot
1 cup chopped flat-leaf parsley
¾ cup chopped mint
Whisk together oil, vinegar, water, garlic, shallot, 1 teaspoon salt, and 1/2 teaspoon pepper until salt has dissolved. Whisk in herbs. Let stand 20 minutes for flavors to develop.
Cooks' note: Salsa verde can be made 30 minutes ahead and kept at room temperature.
MacGourmet Rating: 5 Stars