This post may contain affiliate links, which won't change your price but will share some commission.
This month's Supper Club theme was Restaurant Recreations. It turned out to be a great meal! One of the recipes we picked was a copycat version of the Cheddar Bay Biscuits from Red Lobster. I've only been there twice before, but the biscuits were the highlight of the meal, in my opinion. They have quite a cult following online, too. So I picked out this recipe. It was insanely easy to put together, and something I'll totally make again if I need a side dish in a pinch. They were nice and fluffy...we almost devoured them in the car on the way to the event tonight because they smelled so wonderful!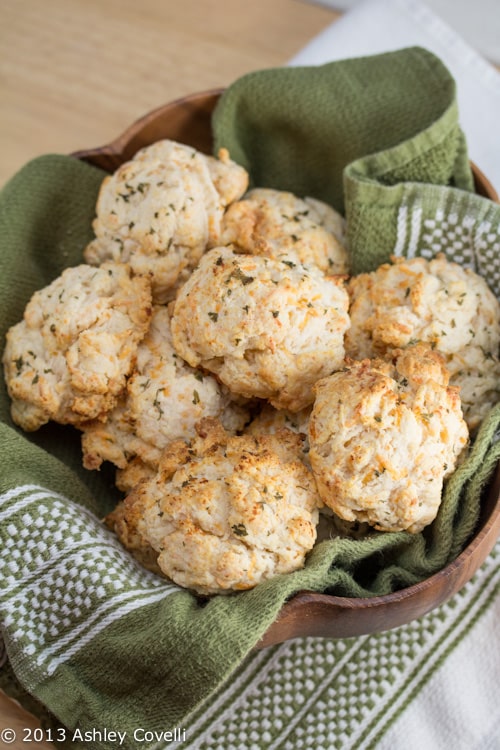 Red Lobster Cheddar Bay Biscuits
Big Oven
Yield: 12 Servings
Ready in about 30 minutes
2 ½ cups Bisquick baking mix
1 cup cheddar cheese; finely grated
¾ cup whole milk
2 tablespoons butter
⅛ teaspoon garlic powder
¼ cup butter
½ teaspoon garlic powder
½ teaspoon dried parsley flakes
1 dash salt
1. Preheat your oven to 400 degrees.
2. Combine Bisquick with cheddar cheese, milk, 2 tablespoons of butter that has been melted in the microwave, and ⅛ teaspoon garlic powder in a medium bowl. Mix until well-combined.
3. Drop approximately ¼-cup portions of the dough onto an ungreased cookie sheet.
4. Combine ¼ cup butter with ½ teaspoon garlic powder, parsley flakes and salt. Brush this mixture over the tops of each unbaked biscuit.
5. Bake for 14 to 16 minutes or until the tops of the biscuits begin to turn light brown. Serve warm.
Big Flavors Rating: 4 Stars