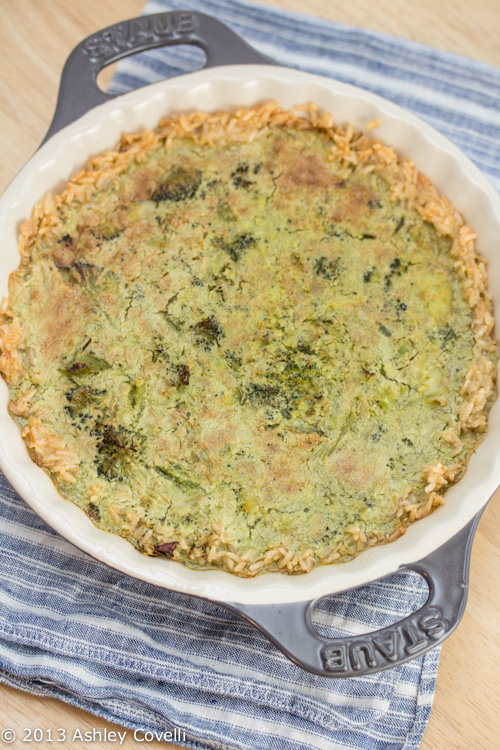 Supper Club: Quiche with Brown Rice Crust
This post may contain affiliate links, which won't change your price but will share some commission.
This month's Supper Club theme was Rice. I saw this recipe in my Vitamix cookbook and thought it sounded awesome! It turned out OK…nothing special. I think it's a good idea, but it didn't work great as written. The top part of the crust gets too crunchy from baking without being covered. I think next time, I'd just do a bottom crust and not bring it up on the sides. I used regular milk instead of soy, and the texture of the quiche was kind of blah…but again, I think it has potential to be much better if tweaked a bit. The flavor was good, so that was a bonus.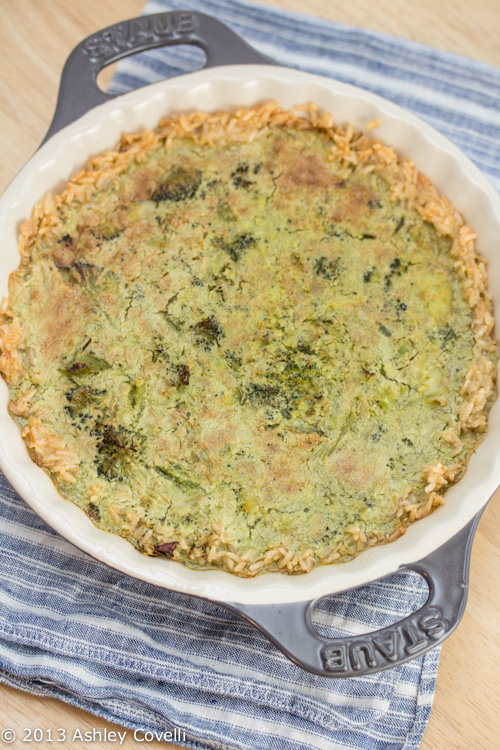 Quiche with Brown Rice Crust
Vitamix
Yield: 8 slices
Difficulty: Advanced
Total Time: 1 Hour 40 Minutes
2 cups (390 g) brown rice, cooked, cooled
1 egg white
1 cup (70 g) broccoli florets, steamed
3 large eggs or 3/4 cup (180 ml) egg substitute
3/4 cup (180 ml) soy milk
1/2 cup (55 g) shredded cheddar cheese
1 tablespoon fresh parsley leaves
1 1/2 tablespoons dried basil
1/4 teaspoon salt
1/4 teaspoon onion powder
Preheat oven to 350°F (180°C). Spray a 9-inch (22.5 cm) pie pan with cooking spray.
To make the brown rice crust, mix rice and egg white in a medium bowl by hand.
Press into prepared pan.
Bake for 10 minutes.
Preheat oven to 400°F (200°C).
Place broccoli in center of prebaked rice crust.
To make filling, place eggs, soymilk, cheese, parsley, basil, salt and onion powder into the Vitamix container in the order listed and secure lid.
Select Variable 1.
Turn machine on and slowly increase speed to Variable 10, then to High.
Blend for 30 seconds.
Pour mixture over broccoli.
Bake 40-45 minutes or until top is brown.
Big Flavors Rating: 3 Stars