This post may contain affiliate links, which won't change your price but will share some commission.
This month's Supper Club theme was Picnic. I saw this post over on the Cookin' Canuck site, and thought it looked perfect for our event. It was really light and refreshing, and didn't have a heavy mayo base like a lot of chicken salad recipes. I liked it more than Dino did - I think it was too mild for him. The whole wheat pitas were a bit too soft and crumbly for us, so next time, I'd probably make it with a regular white one. Our event ended up being inside due to a big storm system, but it was a lot of fun nonetheless.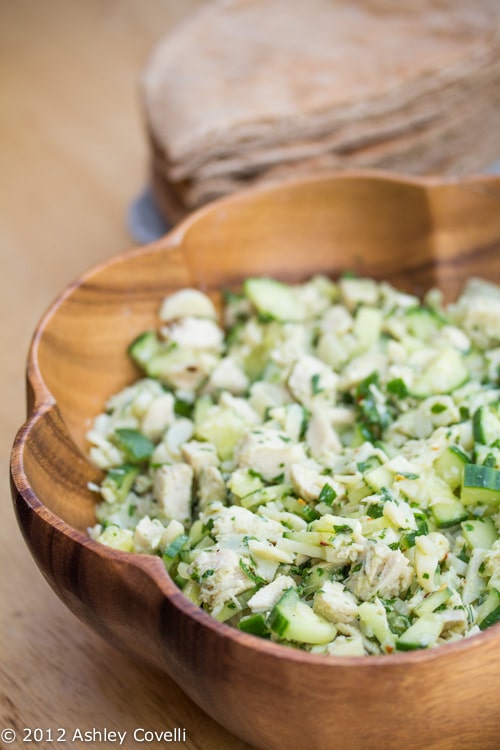 Pita Sandwich with Chicken, Hearts of Palm & Chimichurri Dressing
Cookin' Canuck
Yield: Makes 4 stuffed pita halves.
The dressing:
¼ cup chopped Italian parsley
1 tablespoon plus 1 teaspoon red wine vinegar
1 clove garlic, minced
¼ teaspoon kosher salt
¼ teaspoon freshly ground black pepper
¼ teaspoon red chile flakes
1 tablespoon plus 1 teaspoon extra-virgin olive oil
The sandwich:
1 cup roughly chopped English cucumber
1 cup halved and sliced hearts of palm
1 cup chopped, cooked chicken breast
2 whole wheat pitas*, cut in half
The dressing:
1. In the bowl of a food processor or a blender, combine pulse parsley, red wine vinegar, garlic, salt, pepper and chile flakes. Pulse until combined, but not smooth.
2.With the motor running, slowly pour in the olive oil.
The sandwich:
3. In a medium bowl, stir together cucumber, hearts of palm and chicken.
4. Gently stir in the dressing.
Scoop the mixture into the four pita halves. Serve.
*Optional: use Gluten Free
Big Flavors Rating: 4 Stars