This post may contain affiliate links, which won't change your price but will share some commission.
Dino drew Texas for his state, and he was going to smoke ribs, but the recipes are pretty intense and take a long time to cook, and we were just too busy. So he mentioned brisket, and I found this great, indoor brisket recipe. The reviews were great, but we made a few changes based on what we read - we lowered the temperature to 300°F, and let it cook for 3 ½-4 hours. Dino also made his own BBQ sauce, as the one in the recipe got some not-so-good reviews on the website. The other key thing that we did was to make the rub and put it on the brisket the night before, and let it cure overnight. The next morning, we wrapped it in foil and baked it. It rocked!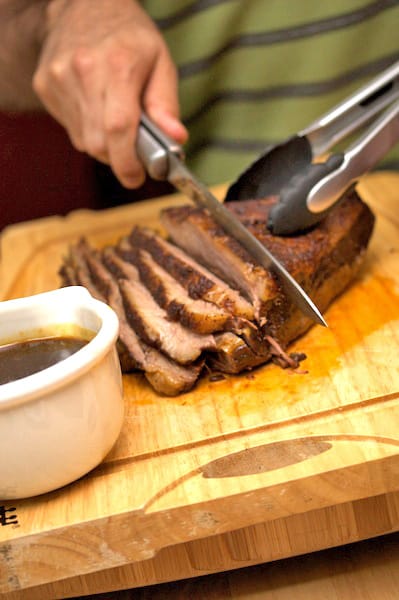 And here's a shot of the whole meal (minus dessert):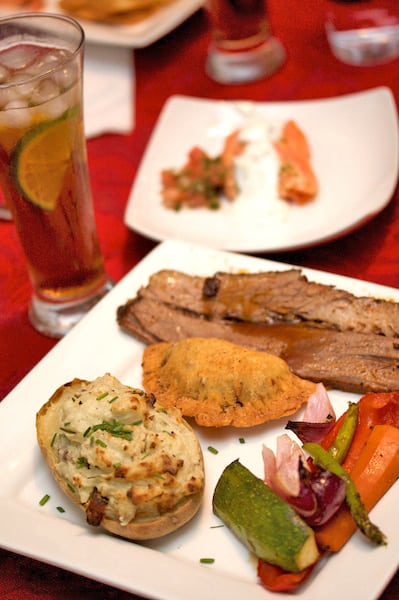 Lazy Texas Brisket
Bon Appétit August 1982
1 large garlic clove, minced
1 4- to 5-pound beef brisket
1 tablespoon chili powder
1 teaspoon paprika
1 teaspoon salt
½ teaspoon ground cumin
½ teaspoon dried sage, crumbled
½ teaspoon sugar
½ teaspoon ground oregano
¼ teaspoon ground red pepper
¼ teaspoon freshly ground pepper
Broncbuster's Barbecue Sauce
Preheat oven to 325°F. Rub garlic into both sides of brisket. Combine all remaining ingredients except barbecue sauce in small bowl and mix well. Rub into brisket. Set brisket fat side up on large piece of foil and wrap tightly. Transfer to shallow roasting pan. Bake until tender, about 3 hours. Serve hot or cold with sauce.
Dino's BBQ Sauce:
INGREDIENTS
1 cup cider vinegar
¼ cup yellow (ballpark) mustard
1 teaspoons salt
1 ½ cups brown sugar (or 1 cup brown sugar, ½ cup honey)
shot of lemon juice
½ stick of butter
1 teaspoon cayenne pepper
DIRECTIONS
Bring to a boil then simmer, uncovered until it reduces to a thickness of your liking.
MacGourmet Rating: 5 Stars