This post may contain affiliate links, which won't change your price but will share some commission.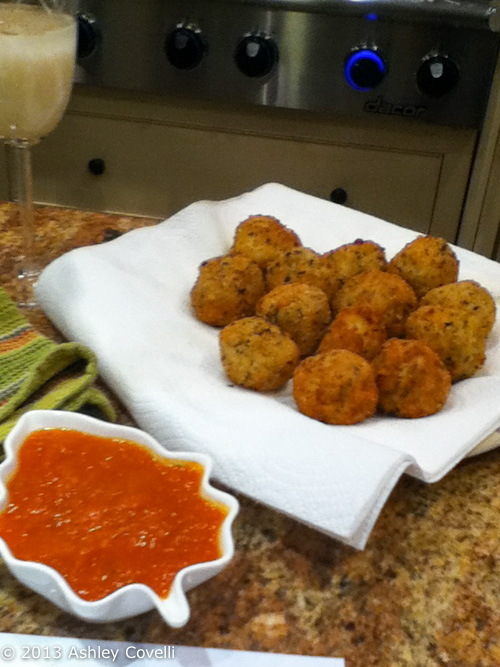 The other dish we made for this month's Supper Club event was Italian Rice Balls. They were really good, and easier to make that I was expecting. I laughed when it said that mozzarella cheese cubes were optional. Ha! It's a must! They melt and are a great surprise when you bite in. You can use water instead of chicken broth to make this vegetarian, but I'd think vegetable stock would be a better choice (we used chicken). We also seasoned the breadcrumbs with some garlic powder, Italian seasoning and some kosher salt. That added a lot. The texture was perfect, but I think we could make these even better if we tweaked the seasonings in the rice mix a bit more. Yum! We served them with some of Dino's homemade Marinara Sauce. I forgot to bring my camera with us, so please excuse the low quality iPod photos 😉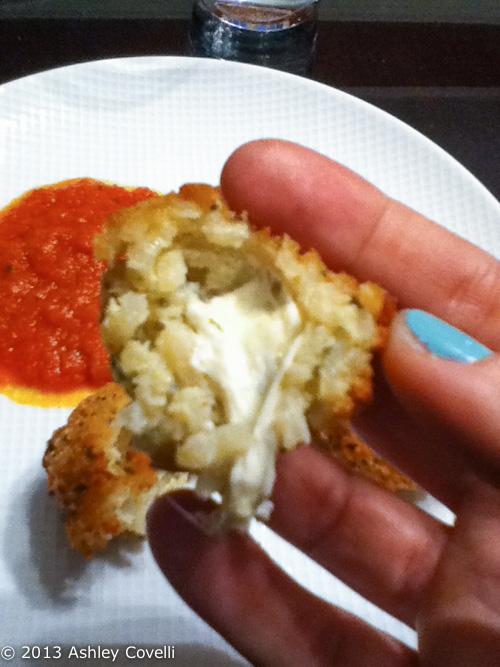 Italian Rice Balls
Food.com - Julesong
Total Time: 1 hrs 40 mins
Yield: 20-24
2 eggs
⅓ cup grated parmesan cheese
1 tablespoon dried basil or 1 tablespoon dried parsley
¼ teaspoon fresh ground black pepper
½ teaspoon salt, to taste (recipe originally called for 1 tsp)
2 ¼ cups low sodium chicken broth or 2 ¼ cups water
1 cup uncooked white rice
1 ½ cups dried breadcrumbs*
2 cups olive oil or 2 cups vegetable oil
½ cup mozzarella cheese, in cubes (optional)
1. In a bowl whisk together the eggs, Parmesan cheese, basil or parsley (I prefer basil), pepper, and salt; cover and refrigerate.
2. Pour the chicken broth (or water and a ½ teaspoon of salt) into a large saucepan and bring to a boil; stir in the rice, cover and reduce the heat to low.
3. Cook the rice until liquid is almost absorbed, about 15 to 17 minutes.
4. Remove from heat and gradually pour in egg mixture, continually stirring rapidly to coat the surface of the rice and prevent the egg from scrambling; allow rice mixture to cool in the refrigerator for 1 hour.
5. Pour bread crumbs into a shallow dish.
6. Dampen your hands with water and create 1-inch balls from the rice mixture, then coat each one with bread crumbs.
7. In a small, deep skillet, heat enough oil to cover the rice balls to an adequate frying temperature (350 degrees F) so that a piece of rice from the mixture actively sizzles when dropped in; alternately, a deep fryer may be used.
8. Fry the rice balls 4 to 6 at a time, turning as needed to ensure even browning.
9. Drain on paper towels, then serve warm as is or with a bit of marinara sauce.
10. Another nice touch you can use with these is to put a small cube of mozzarella cheese in the middle of each rice ball!
*Optional: use Gluten Free
Big Flavors Rating: 4 Stars