This post may contain affiliate links, which won't change your price but will share some commission.
This is the other main dish that we made for this month's Supper Club. It was awesome! The glaze is incredibly flavorful - it's sweet from the honey and nice and garlicky. The five-spice is a really wonderful addition - it makes the flavor incredibly complex. It doesn't take too long to put this together, and it's definitely some of the best homemade takeout food we've had!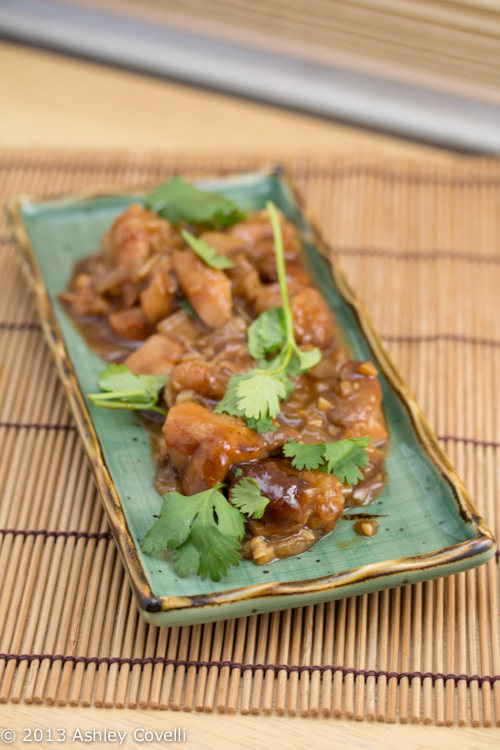 Honey Ginger Glazed Chicken
food.com - Sue Lau
Total Time: 25 mins
Prep Time: 10 mins
Cook Time: 15 mins
Servings: 4
Easily doubles. Serve with rice or fried rice, and stir-fried or steamed veggies for a complete meal.
2 tablespoons vegetable oil
1 large onion, cut into wedges
1 lb boneless skinless chicken thighs, cut into 2 inch pieces
6 cloves garlic, thinly sliced
1 tablespoon grated ginger
2 tablespoons honey
2 tablespoons fish sauce
2 tablespoons soy sauce*
½ teaspoon five-spice powder
fresh cilantro stem (for garnish)
1. Heat oil in the wok.
2. Add onion and stir-fry until golden.
3. Add chicken and stir-fry until browned.
4. Add the garlic, ginger, honey, fish sauce, soy sauce, and five-spice powder.
5. Toss to combine.
6. Cook until chicken is nicely glazed and heated through.
7. Place on serving platter and garnish with cilantro sprigs.
*Optional: use Gluten Free
Big Flavors Rating: 5 Stars