Supper Club: Curried Peanut and Tomato Soup
This post may contain affiliate links, which won't change your price but will share some commission.
We wanted to make a spin on a traditional tomato soup, and when I found this recipe, I thought it looked perfect. It was really good! The only change I made was to put the soup in the blender at the end, to make it smooth. I didn't think it looked overly appetizing with the chunks in it. It should also be noted that this doesn't list a serving size, and it really doesn't make a lot of soup, so if you have more than 4 people, or you want enough for big bowls of soup, double it. It was a big hit with our Supper Club! I'll definitely be making this one again.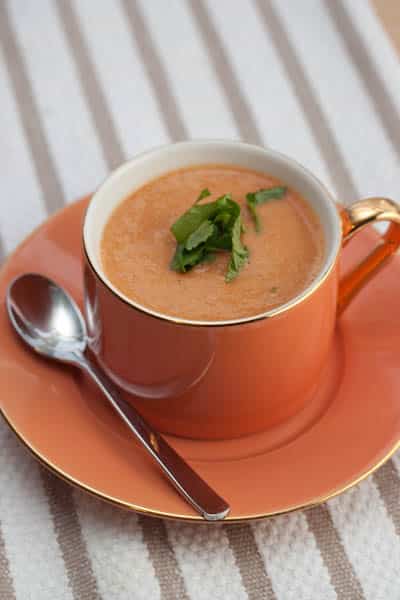 Curried Peanut and Tomato Soup
Gourmet February 2006
1 medium onion, chopped (1 cup)
1/4 teaspoon salt
1/8 teaspoon black pepper
2 tablespoons vegetable oil
2 teaspoons curry powder (preferably Madras)
1 (14-oz) can diced tomatoes in juice, chopped if large, reserving juice
1 3/4 cups reduced-sodium chicken broth (14 fl oz)
1 cup hot water
1/4 cup smooth peanut butter
2 tablespoons chopped fresh cilantro
Cook onion, salt, and pepper in oil in a 2- to 3-quart heavy saucepan over moderate heat, stirring occasionally, until softened, 4 to 5 minutes. Add curry powder and cook, stirring frequently, 2 minutes. Add tomatoes (with their juice) and broth and simmer, uncovered, 5 minutes. Stir hot water into peanut butter until smooth and add to soup. Simmer, uncovered, stirring occasionally, 5 minutes. Stir in cilantro before serving.
Big Flavors Rating: 5 Stars