This post may contain affiliate links, which won't change your price but will share some commission.
For this month's Supper Club, we all put an ingredient on a piece of paper and drew one from a hat. Well, actually, one of the suggestions fell out of the hat when we were shaking it, so that's the one we went with (and it was mine!) - peppers. I wanted to make a roasted pepper soup, and this recipe looked great. It's really rewarding to roast your own peppers. I have an electric stove, so I broiled them. The soup turned out pretty good, but wasn't anything spectacular.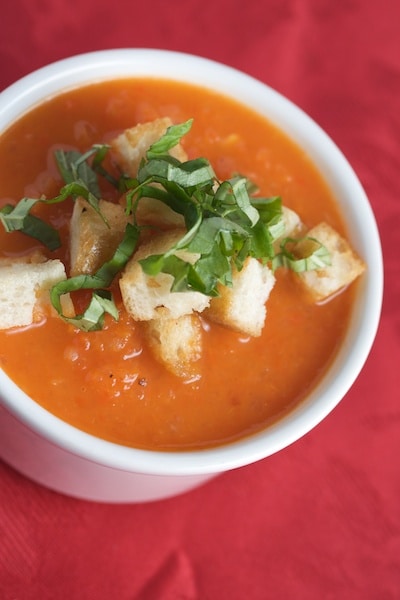 Chilled Red Pepper Soup with Basil and Croutons
Bon Appétit August 1993
yield: Serves 4
4 large red bell peppers (about 2 ¼ pounds total)
4 tablespoons olive oil
1 onion, cut into ¾-inch pieces
3 cups (or more) chicken stock or canned broth
⅛ teaspoon dried crushed red pepper
1 ½ cups ½-inch French bread cubes
Fresh basil leaves, slivered
Char peppers over gas flame or in broiler until blackened on all sides. Wrap in paper bag and let stand 10 minutes. Peel and seed. Cut into ½-inch pieces.
Heat 2 tablespoons oil in heavy large saucepan over medium-high heat. Add onion and sauté until brown on edges, about 6 minutes. Add bell peppers and 3 cups stock. Simmer until vegetables are tender, about 5 minutes. Using slotted spoon, transfer peppers and onion to processor; puree. With machine running, add stock from saucepan and blend until smooth. Mix in dried red pepper. Season with salt and pepper. Cover and chill until cold. (Can be made 1 day ahead.)
Heat 2 tablespoons oil in medium skillet over medium heat. Add bread; stir until brown. Whisk cold soup to blend; thin with more stock if necessary. Spoon into bowls. Top with bread and basil.
MacGourmet Rating: 3 Stars