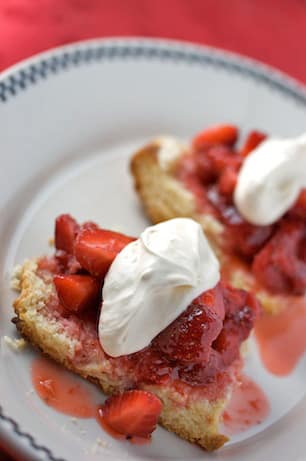 This post may contain affiliate links. Thank you for supporting the brands that keep me creative in my tiny kitchen!
I couldn't resist getting a quart of strawberries from the Farmers' Market, and I literally squealed in the car on the way home when I remembered that I had this strawberry shortcake recipe that I wanted to try. The shortcake part was incredibly easy – it would be a great base for scones, too! This was a big hit, and a wonderful summer dessert.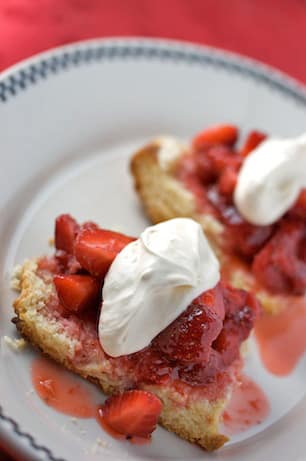 Strawberry Shortcakes
crispywaffle.com
8 servings
For strawberry mixture:
2 pints fresh strawberries (about 1 liter volume)
¼ cup sugar (50 g)
a pinch of salt
For biscuits:
2 cups AP flour (250 g)
1 tablespoon baking powder
½ teaspoon salt
¼ cup sugar (50 g)
1 stick (110 g) butter, chilled and cut into small cubes
1 large egg, beaten
½ cup milk (120 ml)
1 cup creme fraiche, with 1 teaspoon vanilla and 1 tablespoon sugar stirred in
1. Quarter the strawberries, and take 1/3 of them and mash with a fork. Combine the mashed strawberries with the quartered strawberries and sprinkle with the sugar and salt. Allow to macerate for about a half hour.
2. Preheat oven to 425 degrees F (22o C). Combine flour, baking powder, salt and sugar in a large bowl. Add the cold butter. With a pastry cutter, cut the butter into the flour until the mixture resembles coarse crumbs. (You can also combine the ingredients in a food processor and give it a whiz for a few seconds.)
3. Whisk together the egg and milk and pour into the flour mixture. Using a spatula, mix until the dough comes together. Turn it out onto a floured surface and flatten out.
4. With a knife, cut into 8 squares. Place the squares on a baking sheet prepped with parchment paper. Brush tops with milk and sprinkle with extra sugar.
5. Bake for 12-14 minutes. Remove and cool on a cooling rack.
6. To serve: Place the biscuits on the serving plates, then split the biscuits lengthwise. Spoon the strawberry mixture on each biscuit and top with the creme fraiche.
MacGourmet Rating: 4 Stars