This post may contain affiliate links, which won't change your price but will share some commission.
I love rhubarb, but I don't get it too often, so I almost always make my very favorite Rhubarb Custard Pie when I acquire some. When I saw some beautifully red rhubarb at the Farmers' Market on Saturday, I bought a bunch and swore to myself that I would try new things with it. I haven't made lemon bars before, and these looked like a fun spin on them, so I decided to give them a go. Plus, they were from Eating Well, so that's a bonus, right? 😉 So I busted out the whole wheat flour and got to work while my toddler was singing in his crib trying to take a nap like a good boy. These are a bit of work, but they taste great. They're sweet and tart and the crust has a nice crunch. The only thing that we weren't huge fans of was the flavor of the canola oil in the crust. I know that the oil is there in lieu of more butter, but it just has a... taste. It's the same thing we experienced when I made Vegan Mexican Hot Chocolate Snickerdoodles a while back. Good, but just a little strange. I wonder if vegetable oil would be better? Or peanut oil? I'll have to experiment with that. Anyway, these are beautifully bright and perfect for summer.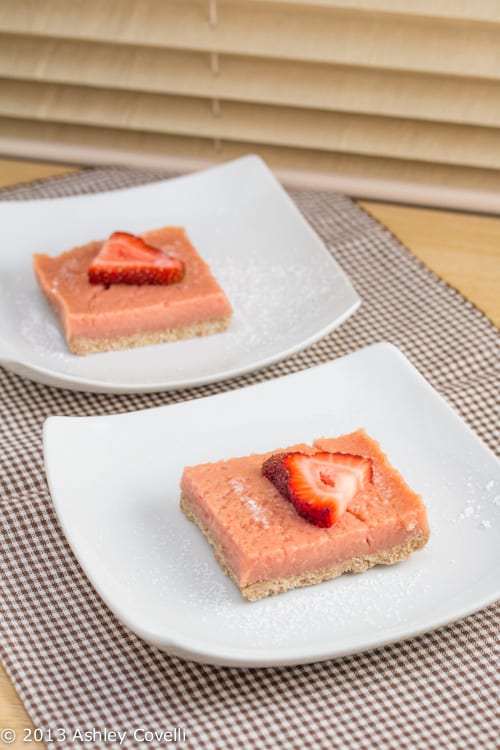 Strawberry-Rhubarb Squares
Eating Well
Inspired by our love of lemon squares, we developed this healthy strawberry-rhubarb squares recipe. We slashed the butter in the shortbread crust for these strawberry-rhubarb bars, but kept the crust light and crisp with heart-healthy canola oil and a little cornstarch. A judicious amount of sugar in the filling lets the natural sweetness of the fruit shine and keeps calories in check.
Makes: 9 squares, 2 ½ inches each
Active Time: 25 minutes
Total Time: 2 ¼ hours (including 1 ½ hours chilling time)
CRUST
1 cup white whole-wheat flour or all-purpose flour
⅓ cup confectioners' sugar
3 tablespoons cornstarch
¼ teaspoon salt
3 tablespoons canola oil
2 tablespoons butter, softened
FILLING
2 cups coarsely chopped strawberries, fresh or frozen (not thawed), plus more for garnish
2 cups coarsely chopped rhubarb, fresh or frozen (not thawed)
⅓ cup water
2 tablespoons lemon juice or lime juice
⅓ cup granulated sugar
3 tablespoons cornstarch
⅛ teaspoon salt
2 large eggs
Confectioners' sugar for garnish
Preheat oven to 350°F. Line an 8-inch-square baking pan with foil and generously coat it with cooking spray.
To prepare crust: Combine flour, confectioners' sugar, cornstarch and ¼ teaspoon salt in a medium bowl. Add oil and butter; using your fingertips, blend into the flour mixture until evenly combined. The mixture will be a little crumbly. Firmly press the dough into the prepared pan. Bake until just barely beginning to brown around the edges, 15 to 20 minutes.
To prepare filling: Meanwhile, combine strawberries, rhubarb and water in a medium saucepan. Cook over high heat, stirring frequently, until the fruit is very soft and mostly broken down, 4 to 6 minutes. Pour through a fine-mesh sieve into a medium bowl, pressing on the solids to extract all the liquid. Pour the strained juice into a glass measuring cup. You need 1 cup strained juice; remove any extra or add a little water if you are short. Stir lemon (or lime) juice into the strained fruit juice.
Whisk granulated sugar, cornstarch and ⅛ teaspoon salt in a medium bowl until well combined. Whisk in eggs. Stir in the juice mixture. Pour the filling over the crust.
Bake until just set, 15 to 20 minutes. (The center should still be a little jiggly—it will firm up as it cools.)
Let cool to room temperature in the pan on a wire rack, about 1 ½ hours. Gently lift out of the pan all in one piece using the edges of the foil. Cut into 9 squares. Garnish with fresh strawberries and dust with confectioners' sugar, if desired, just before serving.
TIPS & NOTES
Make Ahead Tip: Cover and store at room temperature for up to 1 day.
NUTRITION
Per serving: 204 calories; 8 g fat ( 2 g sat , 4 g mono ); 48 mg cholesterol; 30 g carbohydrates; 12 g added sugars; 4 g protein; 2 g fiber; 115 mg sodium; 135 mg potassium.
Nutrition Bonus: Vitamin C (30% daily value)
Carbohydrate Servings: 2
Exchanges: ½ starch, 1 other carbohydrate, 1 ½ fat
Big Flavors Rating: 4 Stars