This post may contain affiliate links, which won't change your price but will share some commission.
Breakfast is the most important meal of the day. I love breakfast at any time of day, but I usually let Dino do the big breakfast cooking on weekends. I'm happy with a fruit and yogurt parfait with a little granola, or a quick breakfast sandwich. Now that I have an active toddler at home, I've been cooking breakfast on weekday mornings more often. I spotted this recipe over at Sweet Pea's Kitchen a while back, and it looked like it was right up my alley. It was a bit of work to put it all together, but once it was in the oven, I was able to relax for a bit and enjoy the sweet smells coming from the kitchen. I liked this combination, but for me, the orange zest was a bit overpowering. I think this would be great with just the berries, bananas and chocolate. I do love that I have a dish of oatmeal in the fridge for the next few mornings, though. My son really liked it, and I'm sure my husband will like it when I send some to work with him tomorrow.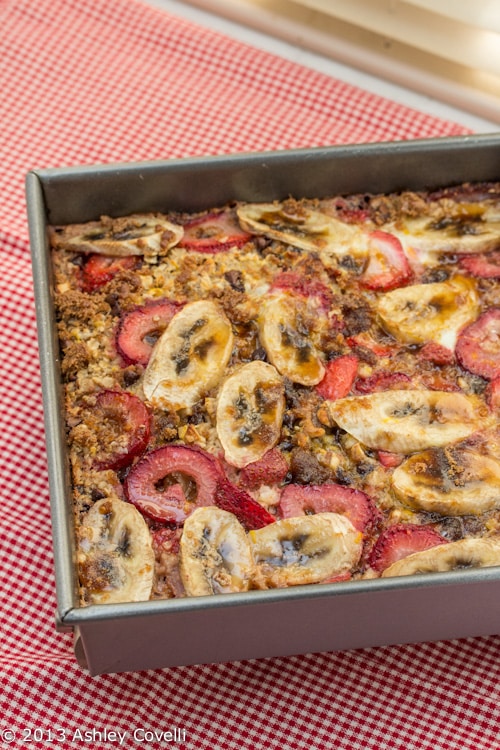 Strawberry Banana Baked Oatmeal
Sweet Pea's Kitchen (adapted from Inspired Taste)

YIELD: Serves 6
2 cups old fashioned rolled oats*
½ teaspoon salt
⅓ cup plus 2 tablespoons packed light brown sugar, divided
1 teaspoon cinnamon
1 teaspoon baking powder
½ cup walnuts, chopped, divided
1 cup fresh strawberries, gently rinsed and dried, hulled and sliced, divided
⅓ cup semi-sweet chocolate chips, divided
2 cups milk
2 teaspoons vanilla extract
1 tablespoon grated orange zest
3 tablespoons unsalted butter, melted
1 large egg
1 medium banana, sliced thin
Preheat oven to 375° F. Spray an 8×8-inch baking dish with nonstick cooking spray; set aside.
In a large bowl, combine oats, salt, ⅓ cup brown sugar, cinnamon, baking powder, half of the walnuts, half of chocolate chips and half of the strawberry slices. Arrange the remaining strawberries, walnuts and chocolate on top of the oats. Then, scatter the banana slices; set aside.
In a small bowl, whisk together the milk, vanilla, orange zest, butter, and egg. Pour over oat mixture. Gently shake the baking dish to help distribute the milk mixture go throughout the oats.
Bake until golden brown, about 35 to 40 minutes. Remove the oatmeal from the oven and sprinkle the remaining 2 tablespoons of brown sugar. Turn the broiler on and place the oatmeal back in the oven. Broil for 1 to 2 minutes, or until the brown sugar melts. Serve warm.
*Optional: use Gluten Free
Big Flavors Rating: 3 Stars