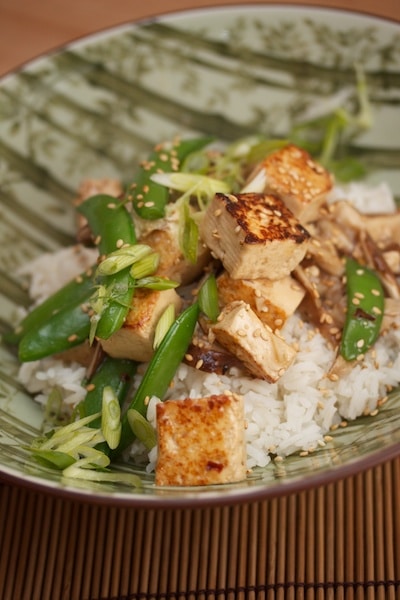 Stir-Fried Tofu with Mushrooms, Sugar Snap Peas, and Green Onions
This post may contain affiliate links. Thank you for supporting the brands that keep me creative in my tiny kitchen!
I'm always looking for new tofu recipes, and this one looked pretty tasty. It's a pretty quick marinade, and after that, the meal comes together easily. I used the time while the tofu was marinating to make some rice. I've never had tofu brown on all sides in only 2 minutes, so it took a bit longer than the instructions state, but otherwise it was a fairly quick meal.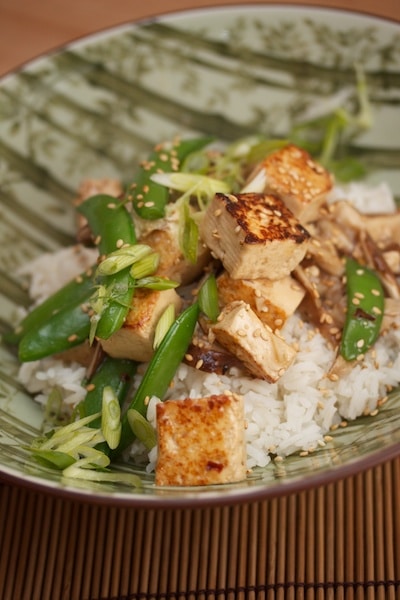 Stir-Fried Tofu with Mushrooms, Sugar Snap Peas, and Green Onions
Bon Appétit January 2004
3 tablespoons soy sauce
1 tablespoon unseasoned rice vinegar
1 tablespoon honey
1 teaspoon oriental sesame oil
1/4 teaspoon dried crushed red pepper
1 12-ounce package extra-firm tofu, drained, cut into 3/4-inch cubes, patted dry with paper towels
1/4 cup water
1 teaspoon cornstarch
2 tablespoons vegetable oil, divided
6 ounces fresh shiitake mushrooms, stemmed, caps quartered
8 ounces sugar snap peas, trimmed
4 garlic cloves, minced
1 tablespoon minced peeled fresh ginger
4 green onions, sliced on diagonal
Whisk first 5 ingredients in medium bowl to blend. Add tofu and stir to coat; let marinate 30 minutes. Drain, reserving marinade in small bowl. Whisk 1/4 cup water and cornstarch into marinade.
Heat 1 tablespoon vegetable oil in large nonstick skillet over medium-high heat. Add tofu and sauté until golden, about 2 minutes. Using slotted spoon, transfer tofu to plate. Add remaining 1 tablespoon vegetable oil to skillet. Add mushrooms and stir-fry until tender, about 3 minutes. Add sugar snap peas; stir-fry 2 minutes. Add garlic and ginger; stir-fry 30 seconds. Return tofu to skillet; drizzle reserved marinade mixture over. Stir-fry until marinade thickens slightly, about 30 seconds. Season to taste with salt and pepper. Transfer to bowl. Sprinkle with green onions and serve.
Big Flavors Rating: 4 Stars