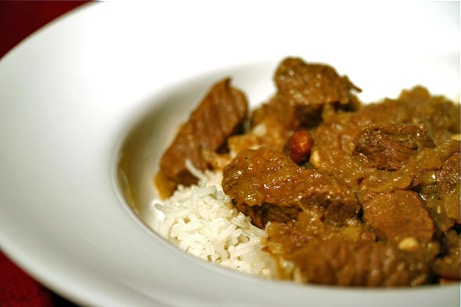 Stewed Chicken Curry (Khoresht-e Kari)
This post may contain affiliate links. Thank you for supporting the brands that keep me creative in my tiny kitchen!
This dish doesn't look pretty, but it's really tasty. I decided to use the beef variation of this recipe. I just got a pressure cooker, so this was a great way to test it out. Instead of cooking it for 2 hours, I only did 45 minutes. It was incredibly tender – the meat fell apart. It wasn't as good as the last dish I made from this cookbook, but it definitely made a nice and comforting dinner for this cold weather.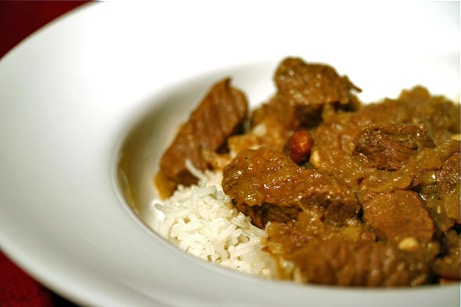 Stewed Chicken Curry (Khoresht-e Kari)
Persian Cooking: A Table of Exotic Delights – Nesta Ramazani
2 medium onions, sliced
3 tablespoons butter
3-4 cloves garlic, grated
1 can beef broth or bouillon
¼ cup water
1-2 teaspoons salt
¼ teaspoon pepper
2-3 tablespoons lemon juice
1 stewing chicken
¼ cup slivered or whole almonds
2 teaspoons curry powder
3 tablespoons warm water
Sauté the onions in 1 1/2 tablespoons of the butter until golden brown. Add the garlic. Add the beef broth, water, salt, pepper, and lemon juice. Add the chicken, cover, and stew until tender (1 hour or longer). Cool chicken and bone.
Sauté the almonds in the remaining 1 1/2 tablespoons of butter until light brown Return the boned chicken to the drippings. Add the sautéed almonds and curry powder (dissolved in warm water). Simmer a few minutes longer. Serve with rice.
This dish can be made with lamb or beef. For beef, allow about 2 hours for cooking.
MacGourmet Rating: 4 Stars