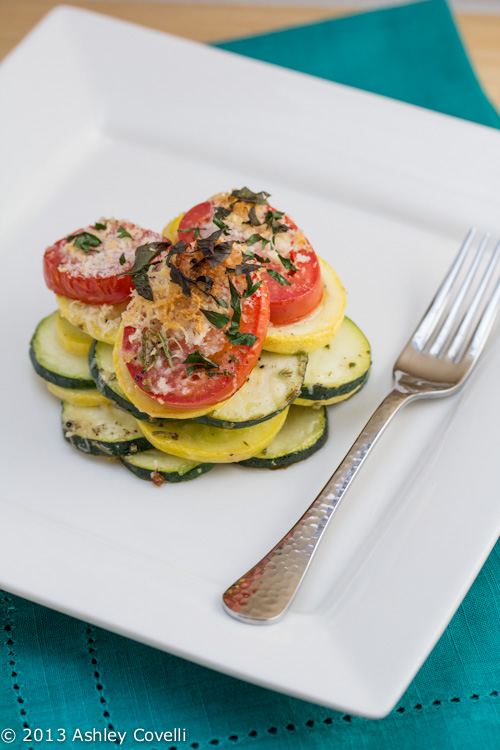 This post may contain affiliate links, which won't change your price but will share some commission.
I don't use my mandoline too often, but when it comes to a dish like this, it makes the job much easier to handle. Consistently shaped slices will cook evenly, which is definitely what you want here. Unfortunately, I didn't love this. I think maybe I sliced them too thickly (I chose 1/4″) and they didn't cook enough. The rosemary was a bit much for me. Maybe I was just frustrated because it was a Monday and I picked something that was a little tedious to assemble and I still wasn't feeling great. I'm not sure. It definitely has potential, but it didn't hit the spot this time. It sure looked pretty, though!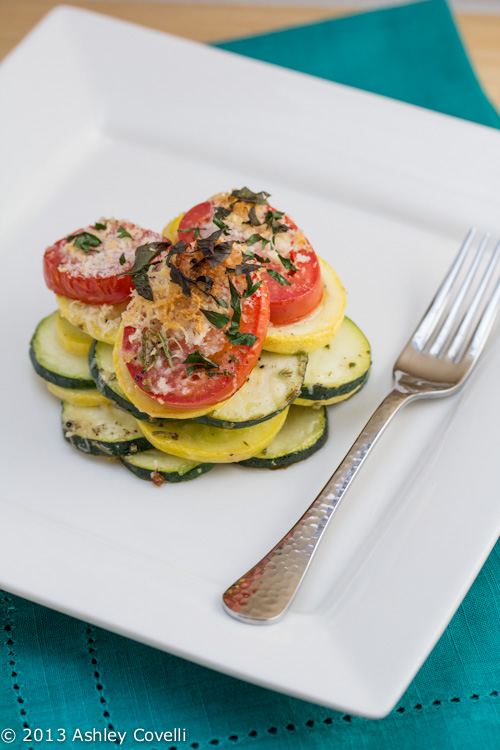 Squash and Zucchini Tart
I Shot the Chef
1 large zucchini
1 large yellow squash
2-3 roma tomatoes
2 tbsp olive oil
2 tbsp lemon juice
1 clove garlic, minced
1 tbsp rosemary, fresh, minced
salt
pepper
1/4 c panko bread crumbs
1 tbsp parsley, minced
1/4 c shredded parmesan cheese
1. Preheat oven to 350 degrees. With a mandoline or sharp knife, slice the zucchini, yellow squash and tomatoes into thin rounds of the same thickness. Combine the zucchini and squash into a bowl with the olive oil, lemon juice, garlic, rosemary, salt and pepper. Mix with your hands to incorporate everything.
2. Line a sheet pan with aluminum foil and rub the foil with butter. Starting with the zucchini, make a three inch round circle of slightly overlapping vegetable slices, filling in until a complete circle of zucchini has been made. If you have a three inch round cutter use this as a guide. This makes it very easy to make perfect circles. Repeat with the squash, then another layer of zucchini and then another layer of squash. Lastly, top with a layer of tomatoes. Sprinkle with salt and pepper. Then gently top with a pinch of parsley, breadcrumbs and parmesan cheese.
3. Place in the preheated oven and bake for 8-10 minutes. Remove from the oven and turn your oven on broil. Let the oven heat up for a few minutes and put the tarts back in (on the highest rack) and broil for 2-3 minutes, until nice and brown on top. Do not walk away or the tarts will burn!
4. Gently remove from the pan with a spatula to keep the layers together. Serve hot.
Makes 3-4 servings
Big Flavors Rating: 3 Stars