This post may contain affiliate links, which won't change your price but will share some commission.
I'm a big fan of peanut sauce, and also a big fan of Sriracha. And I'm always up for finding new ways to cook with tofu. So when I saw this tofu recipe over at Kalyn's Kitchen, I knew I had to try it out. I really like her posts, and this one was no exception. This recipe comes together pretty quickly, and the sauce is really flavorful! It had the perfect amount of heat for me, using 1 tablespoon of Sriracha. I did need to add a little more peanut oil to the pan while the tofu was cooking, but otherwise followed the recipe. I really liked the flavor that the cool green onions added on top. I served this over quinoa. My only note is that for us, it only served 2, which I find is pretty typical with the tofu recipes that I've tried so far.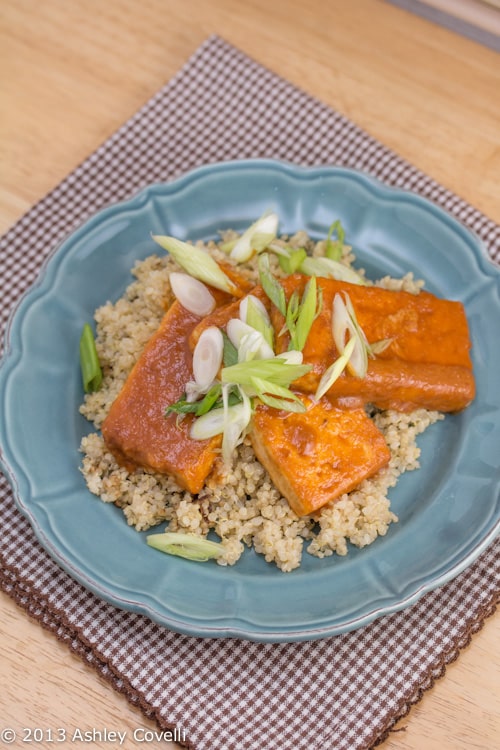 Spicy Vegan Peanut Butter Tofu with Sriracha
Kalyn's Kitchen
Makes about 4 servings
14-16 oz. firm or extra firm tofu
1 T peanut oil
several large garlic cloves, sliced
large piece of ginger root, sliced
2-3 T diagonally sliced green onions (for garnish)
Sauce Ingredients:
3 T soy sauce (reduced sodium is fine)
3 T rice vinegar (not seasoned rice vinegar)
2 T smooth natural peanut butter
1 T agave nectar
2 T vegetable stock or water
1 T Sriracha Rooster Sauce (more or less to taste)
Drain the tofu well in a colander placed in the sink. Then put tofu pieces between a double layer of paper towels and press down with your hand so the liquid in the tofu is absorbed by the towel. (You can do this several times if you need to.) Cut tofu into lengthwise strips about 1 inch wide.
Whisk together the soy sauce, rice vinegar, peanut butter, agave, stock or water, and then add the Sriracha Sauce. (I would start with a smaller amount of Sriracha, taste, and decide when it is hot enough.) Cut the pieces of garlic and ginger, and diagonally slice green onions.
Heat the dry wok (or heavy pan) over high heat for one minute. Then add the peanut oil and heat about 30 seconds more. Add the sliced pieces of ginger and garlic and cook just until they are fragrant (about 30 seconds); then remove and discard. Add tofu pieces, lower heat to medium high and cook, turning often, until the tofu is nicely browned on both sides, about 7-8 minutes.
When all the tofu pieces are browned, add the sauce, turn heat to low, and cook just until the sauce thickens slightly and coats the tofu. (Don't cook too long or the sauce will get too thick and won't pour over the tofu pieces.) Remove pan from the heat, transfer tofu pieces to a plate and pour sauce over and garnish with green onion slices (if using.) Serve hot.
Big Flavors Rating: 4 stars