This post may contain affiliate links, which won't change your price but will share some commission.
It was a long day over at TDM HQ (aka my kitchen and dining room). We were hard at work perfecting our DM Mint Julep recipe, and we needed some food to soak up all of that bourbon. So I got back in the kitchen and whipped up a batch of these lettuce wraps from the newest issue of Cooking Light. It was pretty easy to put together, even after several cocktails, and it was really tasty! I used Boston lettuce to make nice, soft, leafy wrappers for the chicken. My store was out of serrano peppers, so I subbed jalapeño.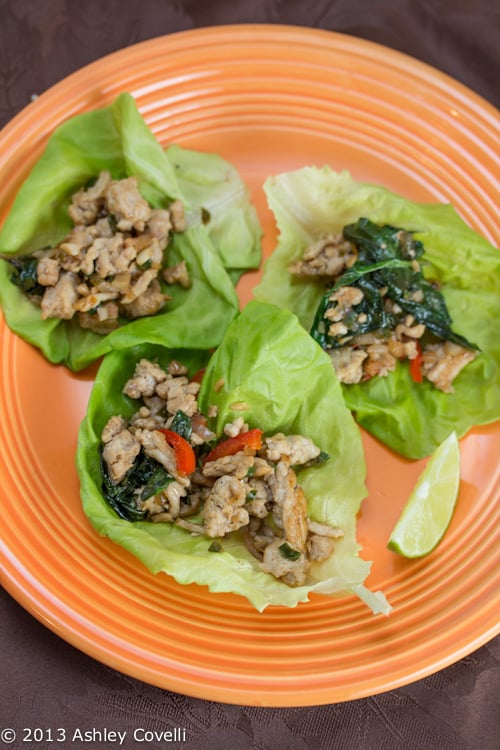 Spicy Thai Basil Chicken
Cooking Light January 2013
Lettuce wraps make for a fresh burst of crunch and flavor, or spoon the stir-fry over rice. Look for fish sauce in your grocery store's Asian foods section.
4 teaspoons canola oil, divided
½ cup minced shallots
½ cup thinly sliced red bell pepper
4 teaspoons minced fresh garlic
1 pound ground chicken
2 Thai or serrano chiles, minced
1 tablespoon fish sauce
2 teaspoons dark brown sugar
2 teaspoons lower-sodium soy sauce
¼ teaspoon freshly ground black pepper
1 cup basil leaves
1 tablespoon fresh lime juice
4 lime wedges
Preparation
1. Heat a large nonstick skillet over medium-high heat. Add 2 teaspoons oil to pan; swirl to coat. Add shallots; sauté 2 minutes. Add bell pepper; sauté 1 minute. Add garlic; sauté 30 seconds. Remove shallot mixture from pan.
2. Add remaining 2 teaspoons oil to pan; swirl to coat. Add chicken; cook 5 minutes or until browned, stirring to crumble. Drain well. Return chicken to pan over medium heat. Add chiles; cook 1 minute. Add shallot mixture to pan. Stir in fish sauce and next 3 ingredients (through black pepper); cook 1 minute or until thoroughly heated. Remove pan from heat; stir in basil and juice. Serve with lime wedges.
Amount per serving
Calories: 250
Fat: 14.1g
Saturated fat: 3g
Monounsaturated fat: 7.1g
Polyunsaturated fat: 3.1g
Protein: 21.6g
Carbohydrate: 10.7g
Fiber: 1.2g
Cholesterol: 98mg
Iron: 1.9mg
Sodium: 486mg
Calcium: 51mg
Big Flavors Rating: 4 Stars