This post may contain affiliate links, which won't change your price but will share some commission.
A friend came over for a mini-potluck tonight. She made the sides, and I took care of the main course and dessert. I had picked up 2 pork roasts at the store a few days ago (buy one get one free!), so I poked around the kitchen to figure out what I could do to jazz it up. I ended up creating a super spicy marinade that I then boiled down into a sauce to go over the top of the pork at the end. Be warned, an entire teaspoon of red pepper flakes (especially the awesome ones I get from Penzeys) really make this sauce pack a punch, so go easy on it until you know how much you can handle. The sweet flavors were really nice with it, and I'm pretty happy with the way it turned out. My (newly pregnant!) friend really enjoyed it, too! Maybe her baby will be a fan of spicy food when he arrives 🙂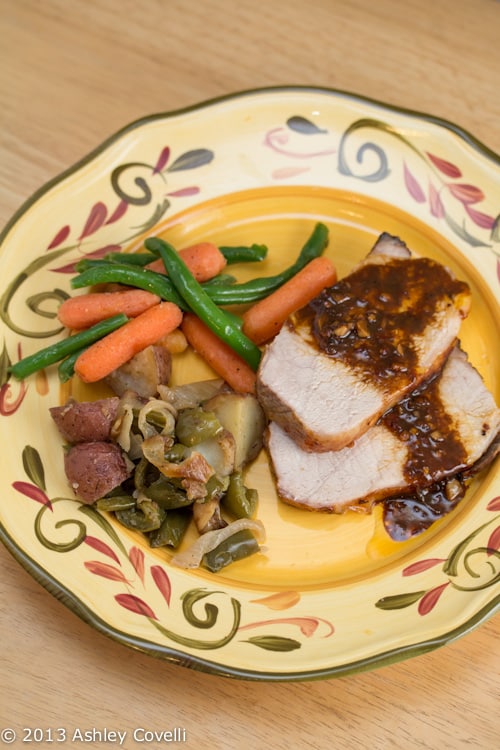 Spicy-Sweet Marinated Pork Loin
Ashley Covelli
1 ½ - 2 pound boneless center cut pork loin roast
Marinade:
⅓ cup freshly squeezed cara cara orange juice
2 cloves garlic, minced
1 tablespoon low sodium soy sauce
1 ½ teaspoons Worcestershire sauce
1 tablespoon balsamic vinegar
1 tablespoon honey
1 tablespoon extra-virgin olive oil
kosher salt and freshly cracked black pepper, to taste
In a small bowl, whisk together marinade ingredients. Place the pork in a large bowl or freezer bag and pour marinade over top. Flip the pork around to coat it. Cover the bowl or seal the bag and refrigerate for 2 hours, turing pork over at least once.
Preheat oven to 325°F. Remove pork from marinade and pour the liquid into a small saucepan. Roast the pork until the internal temperature reaches 150°F (this took around an hour for me). Remove and cover with foil and let it rest to allow the juices to redistribute, about 10 minutes.
While the pork is cooking, bring the marinade to a boil on the stovetop. Reduce the heat and let it simmer on low until the pork is ready.
Slice the pork, top with sauce and enjoy!
Big Flavors Rating: 4 Stars