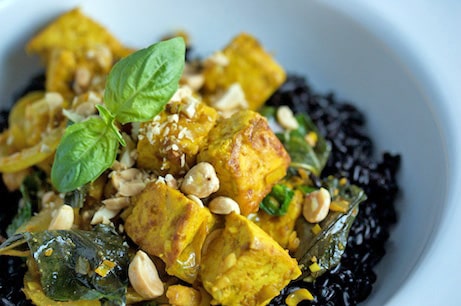 This post may contain affiliate links. Thank you for supporting the brands that keep me creative in my tiny kitchen!
This was a good dish, but there is so much lemon grass in it that it's a bit too potent. It was good, and the heat level was nice. I used a jalapeno – and Dino ended up topping his with some Sriracha. I think this definitely has potential with some tweaks – less lemon grass and maybe some fresh lime juice squeezed over top right at the end. I served this dish on top of some forbidden rice, which really helped the yellow from the turmeric pop.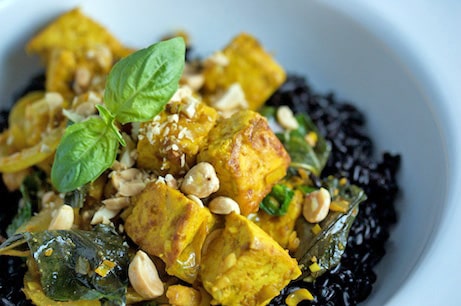 Spicy Lemon Grass Tofu
Sunset June 2001
This Vietnamese dish was adapted from Pleasures of the Vietnamese Table, by Mai Pham (Harper-Collins, NY, 2001).
Makes 3 or 4 servings
1 package (12 to 16 oz.) water-packed firm tofu
2 stalks fresh lemon grass (each 10 to 12 in. long)
1 ½ tablespoons soy sauce
1 ½ to 2 teaspoons minced fresh hot chili such as Thai bird or serrano
2 teaspoons sugar
1 teaspoon ground turmeric
About 1/2 teaspoon salt
½ cup thinly sliced onion
2 tablespoons minced shallots
1 teaspoon minced garlic
1 teaspoon salad oil
⅔ cup fresh Thai or regular basil leaves
3 tablespoons chopped unsalted roasted peanuts
4 cups hot cooked rice
1. Rinse tofu, drain in a colander for about 5 minutes, then pat dry with paper towels. Cut into 3/4-inch cubes and lightly blot with more towels.
2. Rinse lemon grass. Cut off and discard tough tops and root ends; peel off and discard tough, green outer layers of stalks down to tender white portion of bulbs. Finely chop tender portions; you should have 4 to 7 tablespoons.
3. In a bowl, mix lemon grass, soy sauce, chili, sugar, turmeric, and 1/2 teaspoon salt. Gently stir in tofu. Let marinate for 5 to 10 minutes, stirring occasionally.
4. In a 10- to 12-inch nonstick frying pan over high heat, stir onion, shallots, and garlic in oil until fragrant, about 1 minute; push to one side of pan. Add tofu mixture. Gently turn cubes occasionally and stir onion mixture until tofu is browned around the edges and onion is soft, 5 to 7 minutes.
5. Stir in basil leaves and half the peanuts. Add salt to taste. Pour into a serving dish. Garnish with remaining peanuts. Serve with hot cooked rice.
Nutritional notes:
Calories: 413 (26% from fat)
Protein: 21g
Fat: 12g (sat 1.8)
Carbohydrate: 57g
Fiber: 2.2g
Sodium: 692mg
Cholesterol: 0.0mg
MacGourmet Rating: 3 Stars