This post may contain affiliate links, which won't change your price but will share some commission.
This recipe had been on my menu for a few weeks, but I wasn't able to find frozen pearl onions that weren't already in a sauce. And peeling pearl onions is one of those tasks in the kitchen that I really do not enjoy at all. So I had finally taken them off of my grocery list, when I found myself in the frozen vegetable aisle getting ingredients for Iron-Skillet Succotash, and a bag of frozen pearl onions practically jumped off the shelf at me. Victory was mine! I was so excited to finally try this dish, because onions rarely get the spotlight in recipes. Because I got the frozen onions, this was super simple to put together! It took a bit longer for the glaze to reduce for me, but it eventually got there. This was nice - sweet and spicy and very different from other side dishes that I've made. This went really well with the sweet and spicy CrockPot Sweet and Spicy Salmon that I made tonight.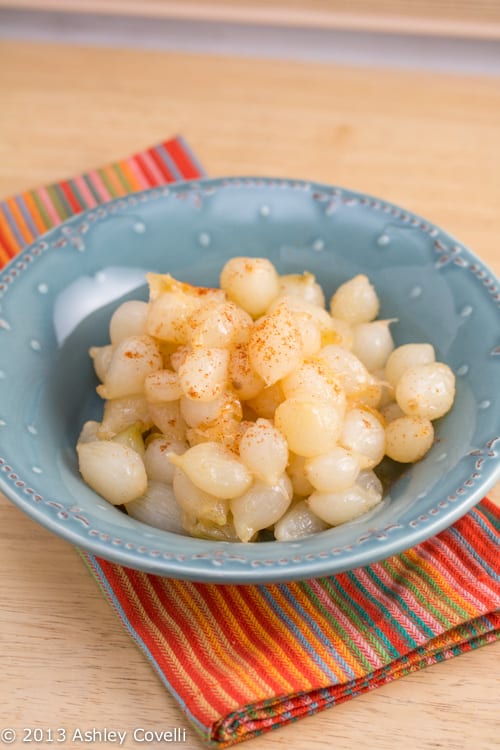 Spicy Glazed Onions
Fine Cooking - April/May 2013 - Michael Ruhlman via The Bitten Word
Serves 4
Note from The Bitten Word: If you substitute frozen pearl onions, you can skip the boiling-and-peeling step. You may find you need to cook the onions in the saucepan slightly longer than the recommended 10 minutes. Just keep an eye on your water level so the onions don't burn.
1 lb. cipollini or pearl onions, ends trimmed, with some root end left intact
1 oz. (2 Tbs.) unsalted butter
1 Tbs. honey
Pinch to tsp. cayenne
Kosher salt
¼ tsp. white wine vinegar; more to taste
Have ready a large bowl of ice water. Bring a 4- to 5-quart pot of water to a rolling boil and add the onions. Cook for 1 minute, drain, and transfer to the bowl of ice water. Swish the onions around until they're chilled. Remove them from the water and peel; the skins should come off easily when you rub them with your fingers, though some may need a paring knife.
Put the onions in an 8-inch-wide, 3- to 4-quart saucepan and arrange snugly. Add the butter, honey, cayenne, ½ tsp. salt, and enough water to just cover the onions (about 2 cups). Bring to a boil over high heat.
Cook over high heat, shaking the pan occasionally, until the liquid has reduced to a syrupy glaze and the onions are tender, about 10 minutes. (If the glaze is done before the onions, add about ½ cup water and continue to cook. If the onions are done first, remove them and continue to boil the liquid until syrupy.)
Lower the heat to medium low, add the white wine vinegar and toss to combine. Season to taste with salt and serve. (The glazed onions can be kept warm, covered, for about 20 minutes.)
Big Flavors Rating: 4 Stars