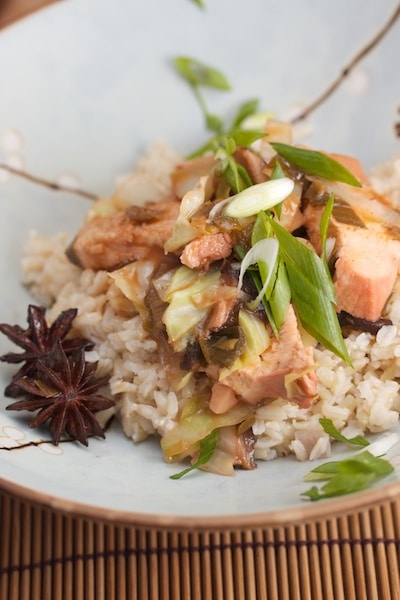 Spicy Braised Chicken with Mushrooms and Star Anise
This post may contain affiliate links. Thank you for supporting the brands that keep me creative in my tiny kitchen!
We went to Vermont a few weeks ago, and took a cooking class at the culinary resort where we were staying. One of the dishes we made involved star anise, which is a flavor I've kind of been avoiding. I'm not a fan of licorice, so I don't enjoy things like fennel, caraway, Chinese five spice or star anise. But I'm trying to broaden my horizons, and like things that I don't typically like. This is one of them – I enjoyed it in the Pho that we made in our class, so I figured I'd give it a try in this dish. I'm so glad I did, because this dish is amazing! It's hard to describe how tasty it is – there's sweetness from the hoisin, insanely tender chicken, rich shiitake flavor, and crunch from the cabbage. The chili sauce adds just the right amount of heat at the end. The only changes I made were to use canola oil instead of peanut, since I have a tough time finding peanut oil nearby, and green cabbage for Napa. I served this over brown rice, and we loved every single bite. I'll definitely be making this again!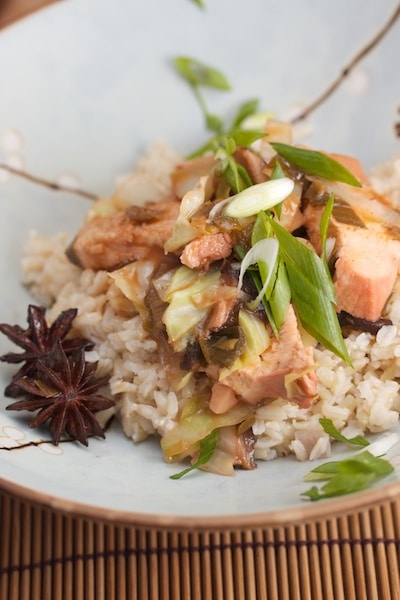 Spicy Braised Chicken with Mushrooms and Star Anise
Bon Appétit January 1999
yield: Serves 4
Just add steamed rice for a complete family-style Chinese dinner.
1 tablespoon peanut oil
4 chicken breast halves with skin and bones
12 ounces fresh shiitake mushrooms, stemmed, caps quartered
2 cups chopped green onions
2 tablespoons minced garlic
1 tablespoon minced peeled fresh ginger
2 14 1/2-ounce cans low-salt chicken broth
1/2 cup hoisin sauce
4 whole star anise
4 cups 3/4-inch-wide strips Napa cabbage (about 1/2 small head)
1 tablespoon hot chili sauce (such as sambal olek or sriracha)*
*Available at Asian markets and in the Asian foods section of some supermarkets.
Heat peanut oil in heavy large pot over medium-high heat. Add chicken; sauté until
brown, about 4 minutes per side. Transfer to bowl. Add mushrooms, 1 1/2 cups
green onions, garlic and ginger to pot. Sauté until mushrooms are tender, about 5
minutes. Return chicken to pot. Add chicken broth, hoisin sauce and star anise. Bring
to boil. Reduce heat, cover and simmer until chicken is cooked through, about 20
minutes.
Remove chicken from pot; cool slightly. Remove skin and bones from chicken and
discard. Cut meat crosswise into 1/2-inch-wide strips.
Meanwhile, boil mixture in pot until reduced to 2 1/2 cups, about 20 minutes. Stir
in cabbage and chili sauce. Boil until cabbage is tender, about 4 minutes. Return
chicken to pot; simmer until heated through, about 2 minutes. Transfer to bowl.
Discard star anise. Sprinkle with remaining 1/2 cup green onions.
Big Flavors Rating: 5 Stars