This post may contain affiliate links, which won't change your price but will share some commission.
This dish combines several of my favorite things. Pork tenderloin - check. Bourbon - check. Quick, easy AND healthy weeknight dinner - cha-CHECK. I've made this pork recipe a few times before, and it came to the rescue tonight after an extremely long day with a semi-cranky toddler. Not that cranky toddlers make me think of bourbon or anything ;). This is such a simple recipe - get the sauce going on one burner, mix a few spices and rub it onto a piece of pork tenderloin, slice it and cook! That's it! It all comes together in a snap, and the sauce has tons of flavor. This time around, I served this with some sweet potatoes that I cooked with a bit of honey and cinnamon and a kale salad.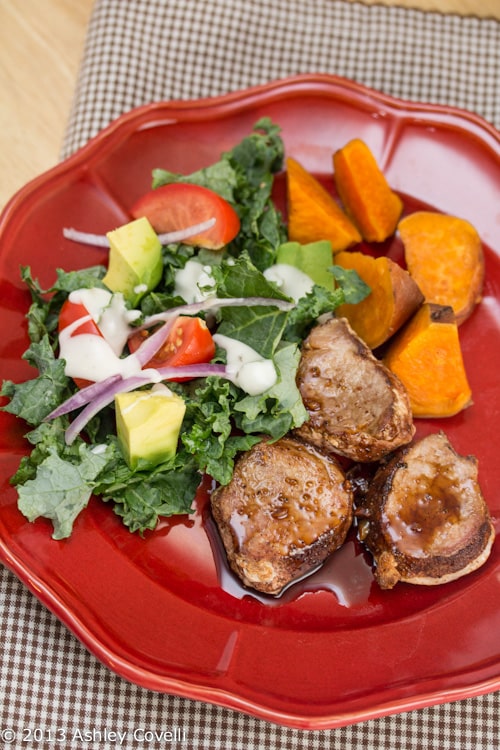 Spiced Pork with Bourbon Reduction Sauce
Cooking Light April 2006
Pair pork tenderloin with sweet 'n' tangy bourbon sauce for a delicious 20-minute dinner. Substitute chicken broth for bourbon (if you prefer), and serve with couscous or rice.
4 servings (serving size: 3 pork slices and 2 tablespoons sauce)
SAUCE:
½ cup bourbon
¼ cup packed dark brown sugar
¼ cup low-sodium soy sauce*
3 tablespoons cider vinegar
1 ½ teaspoons bottled minced garlic
½ teaspoon black pepper
PORK:
½ teaspoon chili powder
¼ teaspoon ground cinnamon
¼ teaspoon ground allspice
⅛ teaspoon salt
1 (1-pound) pork tenderloin, trimmed
Cooking spray
To prepare sauce, combine the first 6 ingredients in a medium saucepan; bring mixture to a boil. Reduce heat to medium; cook until reduced to ½ cup (about 11 minutes), stirring frequently. Remove from heat.
To prepare pork, combine chili powder, cinnamon, allspice, and salt, stirring well; rub evenly over pork. Cut pork crosswise into 12 slices.
Heat a large nonstick skillet over medium-high heat. Coat pan with cooking spray. Add pork to pan; cook 4 minutes on each side or until desired degree of doneness. Serve with sauce.
*Optional: use Gluten Free
Nutritional notes: Calories: 277 (13% from fat) Fat: 4g (sat 1.4g,mono 1.8g,poly 0.5g) Protein: 24.9g Carbohydrate: 16.7g Fiber: 0.5g Cholesterol: 74mg Iron: 2.2mg Sodium: 673mg Calcium: 29mg
Big Flavors Rating: 5 Stars