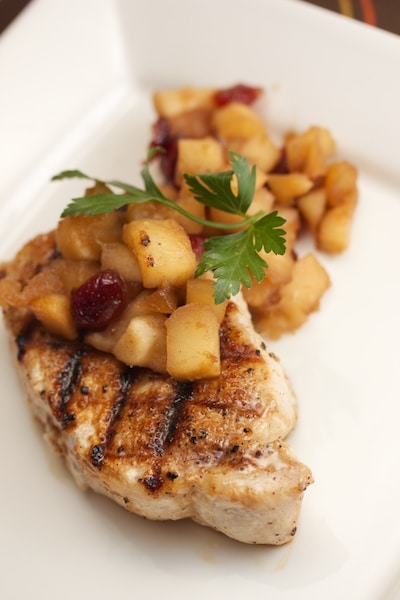 Spiced Pork Chops with Apple Chutney
This post may contain affiliate links. Thank you for supporting the brands that keep me creative in my tiny kitchen!
I wanted to use some of the apples that we picked at the orchard on Saturday, and I thought this recipe looked great. It was a nice, spicy, warming dish. The pork was really juicy, and the spice rub gave them a nice kick. The sweetness of the chutney was perfect with them.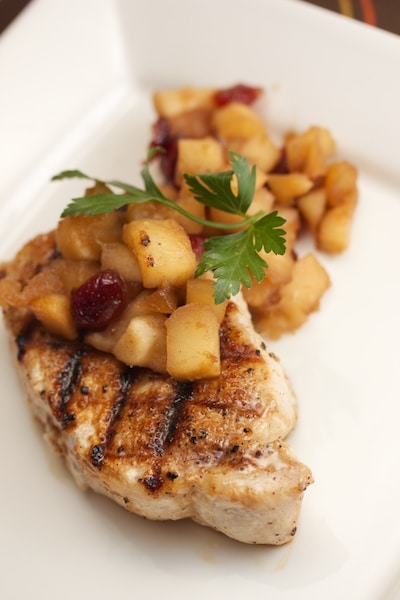 Spiced Pork Chops with Apple Chutney
Cooking Light March 2009
Indulge in a heart-warming, family-friendly dinner of spicy chops and
a fragrant chutney topping.
Yield: 4 servings (serving size: 1 chop and about 1/3 cup chutney)
Ingredients
Chutney:
1 tablespoon butter
5 cups (1/4-inch) cubed peeled apple (about 3 apples)
1/4 cup dried cranberries
3 tablespoons brown sugar
3 tablespoons cider vinegar
2 teaspoons minced peeled fresh ginger
1/4 teaspoon salt
1/4 teaspoon dry mustard
1/8 teaspoon ground allspice
Pork: 3/4 teaspoon ground chipotle chile pepper
1/2 teaspoon salt
1/2 teaspoon garlic powder
1/2 teaspoon ground coriander
1/4 teaspoon black pepper
4 (4-ounce) boneless center-cut pork loin chops, trimmed
Cooking spray
Preparation
1. To prepare chutney, melt butter in a nonstick skillet over medium-high heat. Add apple; sauté 4 minutes or until lightly browned. Add cranberries and the next 6 ingredients (through allspice); bring to a boil. Reduce heat, and simmer 8 minutes or until apples are tender; stir occasionally.
2. To prepare pork, while chutney simmers, heat a grill pan over medium-high heat. Combine chipotle and next 4 ingredients (through black pepper); sprinkle over pork. Coat grill pan with cooking spray. Add pork to pan; cook 4 minutes on each side or until done. Serve with chutney.
Nutritional Information:
Calories:321 Fat:9.6g (sat 4.2g,mono 3.6g,poly 0.7g) Protein:24.4g Carbohydrate:34.6g Fiber:2.4g Cholesterol:72mg Iron:1.1mg Sodium:520mg Calcium:45mg
Big Flavors Rating: 4 Stars