This post may contain affiliate links, which won't change your price but will share some commission.
Of course, the day after I picked out my recipe for last month's Supper Club event, which was Southern themed, I got the newest issue of Cooking Light in the mail, and there was a whole section about Southern food. D'oh! I was happy with what we ended up making for our dinner, but I made a point to go back and check out the Southern dishes in the issue at a later point. So tonight, I made this dish. It was really easy to put together, and it was insanely delicious. I mean... just so, so very good. It could even be made without heating up the kitchen in the summer if you buy pre-made pita chips. There are a lot of textures going on, and the crispy baked pita chips really add a lot to it. The flavors are really strong, so make sure everyone is eating the same thing if you want to avoid any bad breath situations ;).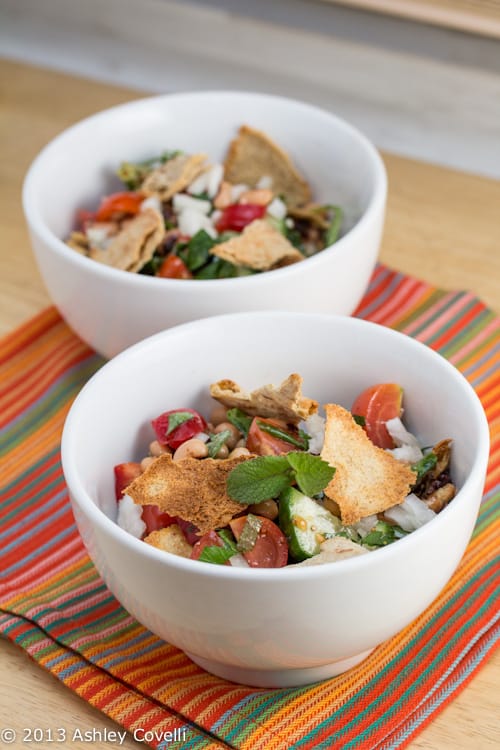 Southern Fattoush
Cooking Light June 2013
Dressing:
4 teaspoons cider vinegar
2 teaspoons whole-grain mustard
2 teaspoons fresh lemon juice
⅜ teaspoon ground sumac
2 small garlic cloves, minced
½ teaspoon kosher salt
¼ teaspoon freshly ground black pepper
6 tablespoons extra-virgin olive oil
Salad:
2 (6-inch) pitas, torn into bite-sized pieces*
1 cup chopped tomato
1 cup sliced English cucumber
½ cup diced red bell pepper
½ cup chopped fresh flat-leaf parsley
¼ cup chopped fresh mint
¼ cup chopped arugula
¼ cup minced Vidalia onion
1 (15-ounce) can unsalted black-eyed peas, rinsed and drained
1. Preheat oven to 400°.
2. To prepare dressing, combine first 7 ingredients in a medium bowl; stir with a whisk. Gradually drizzle in oil, stirring constantly with a whisk.
3. To prepare salad, arrange torn pita in a single layer on a baking sheet. Bake at 400° for 7 minutes, stirring after 4 minutes. Cool completely. Reserve ½ cup toasted pita.
4. Combine tomato and remaining ingredients in a large bowl. Add remaining toasted pita and dressing to bowl; toss well to coat. Top evenly with reserved ½ cup toasted pita. Serve immediately.
*Optional: use Gluten Free
Nutritional Information
Amount per serving
Calories: 224
Fat: 14g
Saturated fat: 1.9g
Monounsaturated fat: 9.9g
Polyunsaturated fat: 1.5g
Protein: 5.2g
Carbohydrate: 20.8g
Fiber: 2.8g
Cholesterol: 0.0mg
Iron: 2.1mg
Sodium: 268mg
Calcium: 45mg
Big Flavors Rating: 5 Stars