This post may contain affiliate links, which won't change your price but will share some commission.
I saw this post over at A Year of Slow Cooking and thought it sounded pretty good. I love finding new slow-cooker recipes, and wanted some more really good ones to put into the regular rotation. This one turned out pretty good. There was a ton of liquid left in my slow cooker though, so only the ribs on top had that nice glaze. The meat fell right off of the bones (which is why it doesn't look particularly great) and the thick parts of the sauce were really tasty.I'd probably make this one again, and maybe boil down some of the sauce afterward or make some extra on the side to use as a glaze. I served this with leftover brown rice and green beans.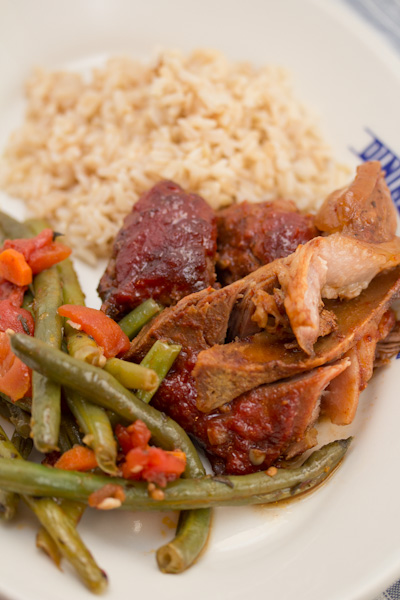 Smoky Country-Style BBQ Ribs in the Slow Cooker
A Year of Slow Cooking
serves 4, unless you're really hungry.
3-4 pounds ribs
1 large yellow onion, sliced in rings
½ cup brown sugar
1 teaspoon chili powder
1 teaspoon black pepper
1 teaspoon Kosher salt
1 (12-ounce) bottle chili sauce (in the ketchup aisle)
¼ cup balsamic vinegar
2 tablespoons Worcestershire sauce (read labels for gluten. Lea & Perrins, made in the USA is GF)
4 chopped garlic cloves
½ to 1 teaspoon Tabasco Sauce
¼ teaspoon Liquid Smoke
Use a 6-quart or larger slow cooker. Cut the rack of ribs in half with a large knife or poultry scissors and make sure they fit all the way in the cooker, with the lid on. Now take them out.
Place the sliced onion in your pot, then put the ribs back in. Combine the dried ingredients: brown sugar, chili powder, salt, and pepper in a small bowl. Rub this mixture all over the ribs.
Wash your hands well.
Now combine the wet ingredients: chili sauce, balsamic vinegar, Worcestershire sauce, garlic, Tabasco, and Liquid Smoke. Pour this mixture evenly over the top of your ribs.
Cover and cook on low for 6-7 hours, or until the meat is tender, and has begun to pull away from the bone. The longer you cook the meat, the more tender it will become. Before serving, flip the ribs over a few times to get all sides nice and saucy.
Big Flavors Rating: 4 Stars